Sunni-Shiite tension flares as rockets fall in Eastern Lebanon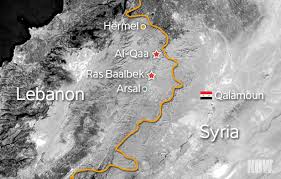 Several rockets landed on Wednesday on residential neighborhoods of the eastern town of al-Labweh, the state-run National News Agency reported.
The so-called Free Sunnis of Baalbek Brigade claimed responsibility for the attack.
NNA did not specify the source of the assault and did not say whether the attack caused material damage or casualties.
Last month, Hizbullah gunmen and local Shiites closed off the town of Arsal's only road to the rest of Lebanon by erecting a sandbagged checkpoint.
The move came after residents of nearby Shiite areas blamed Arsal, a majority Sunni town, for rocket fire on their villages, including al-Labweh, and a deadly car bombing in al-Nabi Othman.
The Lebanese army later reopened the Labweh-Arsal road after the blockade led to road closures across Lebanon.
Arsal's population sympathizes with Syria's revolt against President Bashar Assad, and the town has become a haven for refugees, including scores of wounded fighters in need of life-saving treatment.
Arsal is now home to 40,000 Lebanese and 52,000 Syrian refugees for whom the road is a vital lifeline.
Al-Labweh's residents meanwhile back Hizbullah, which is fighting alongside Assad's troops against the majority Sunni rebels.
Naharnet