Geagea expected to launch presidential campaign on Friday, vows to save 'sinking ship'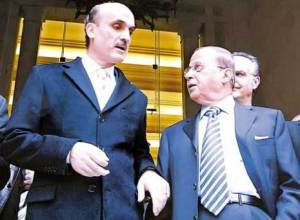 Lebanese Forces leader Samir Geagea is poised to officially declare his nomination for the presidency, after his press office announced that the party's Executive Committee will meet Friday to discuss his candidacy.
According to An Nahar newspaper, Geagea is also expected to launch his electoral campaign in his bid to succeed President Michel Suleiman whose six-year term ends on May 25.
"In the presence of the LF parliamentary bloc and the party's central committees, the Executive Committee will convene on Friday at 12:00 PM in Maarab for consultations and discussions over the presidential bid of party leader Samir Geagea," Geagea's office said.
Geagea said in an interview on al-Jadeed television on Sunday that he would run in the presidential race.
"The main reason behind my nomination is that I saw the ship sinking and we need a drastic solution," said Geagea.
An Nahar said that deputy Speaker Farid Makari has backed Geagea and would continue consultations with him over his campaign.
Maronite political leaders, including Geagea, urged Speaker Nabih Berri on Friday to press ahead with a parliamentary session to elect a new president.
Patriarch Beshara al-Rahi chaired a meeting that brought together Free Patriotic Movement chief MP Michel Aoun, Kataeb Party leader Amin Gemayel, and the head of the Marada movement, MP Suleiman Franjieh.
Geagea did not attend the meeting in Bkirki for security reasons but approved the statement issued by the conferees, a spokesman said Saturday.
He said all four of the political leaders are candidates in the elections.
Naharnet