Assad's army pounds his hometown in desperate bid to regain control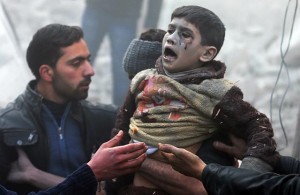 Syrian government forces backed by militia fighters and warplanes pounded rebel units in Latakia province on Monday in a desperate effort to regain control of towns and villages in President Bashar Assad's ancestral homeland recently lost to an opposition offensive.
Activists said fighting between Assad loyalists and rebels was concentrated in the northern edge of Latakia province. The Britain-based Syrian Observatory for Human said government troops bombarded rebel positions with artillery as they tried to capture several strategic hilltops. Fighter jets also carried out several airstrikes.
State TV said army troops captured one of the hilltop positions known as the Observatory 45. It is a strategic post that is key to both sides because it has a commanding view of the contested surrounding mountains and green plains below. The rebels and opposition groups have not confirmed its capture.
It later showed footage of what it said were rebels killed in the area during the government offensive. Several bearded men in military uniforms lay dead, covered with blood, as government troops stood in the background.
Opposition fighters from several conservative and hard-line Islamic groups, including the al-Qaida-affiliated Nusra Front, launched their assault on the northern stretches of Latakia province along the Turkish frontier March 21. So far, they have seized a border crossing, several villages and the predominantly Armenian-Christian town of Kassab. They've also gained control of an outlet to the sea for the first time since Syria's uprising began three years ago.
Their push for the area from which Assad's family hails from appeared to have caught Damascus off guard. Government forces, backed by Lebanese Hezbollah fighters, have recently triumphed against the opposition along the border area with Lebanon, ousting rebels from their border strongholds inside Syria and cutting off supply routes from the neighboring country.
Syria's information minister lashed out at Turkey, accusing Ankara of sending foreign fighters across the border to fight Syrian government troops in Latakia.
Hours after Omran al-Zoubi's comments, Turkey said its artillery fired into Syrian territory in retaliation for a rocket that hit a mosque in a Turkish border town, wounding a 60-year old Syrian woman refugee.
The governor's office for Turkey's Hatay province said Monday three mortar rounds fired during fighting between the Syrian regime and opposition forces also landed on Turkish territory, but did not hurt anyone.
It said Turkish artillery aimed at the origin of the rocket and mortar rounds. Turkey frequently retaliates against stray fire from Syrian government or opposition forces.
Hostilities have flared along the Syrian-Turkey border on several occasions during the 3-year-old conflict and last week Turkey shot down a Syrian fighter jet, saying it violated its airspace. Syrian government vehemently denied the claim, with state media saying that the jet was flying in Syrian airspace, 7 kilometers (5 miles) from the border when it was shot down.
Speaking to Syrian state TV late Sunday, al-Zoubi, said neighboring Turkey is facilitating the entry of "groups of foreigners, armed to their teeth" into the province.
Turkey, a NATO member, once had good ties with Syria. But the two countries had a falling out over Ankara's support for the Syrian opposition after an uprising started in March 2011. The revolt started as largely peaceful protests against Assad's rule but gradually turned into a civil war. More than 140,000 people have been killed, activists say, and millions have been forced out of their homes.
Syrian warplanes bombed the northern town of Harem near the border with Turkey on Monday, Turkish state-run news agency Anadolu reported. It said 23 people wounded in the raids were brought across the border to the Turkish town of Reyhanli for treatment. One of them died.
In the Latakia offensive alone, more than 1,000 people have been killed and wounded on both sides of the fighting, according to a statement by the Observatory, which has documented the conflict by sending a daily tally of those killed and wounded in the conflict. Among those killed were at least 194 soldiers and Assad-loyal fighters and 27 army officers, including a second cousin of the president, Hilal Assad.
More than 128 rebel fighters were also killed in the 10-day battle for Latakia, the Observatory said. The number included 56 foreign fighters.
AP