Drive-by shooting in Tripoli: Lebanese soldier gunned down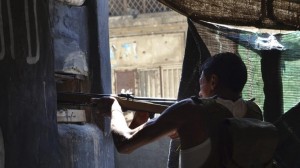 The Lebanese army carried out raids in the northern city of Tripoli on Thursday after a soldier was killed in a drive-by shooting, the military and a radio station said.
The army said in a communique that two masked men riding a motorcycle killed Fadi al-Jubaili, an army warrant officer, at around 6:15 am after opening fire on him in the area of Boulevard.
Al-Jubaili was heading to work when he was killed, it said.
Military police launched an investigation into the murder, the communique added.
Voice of Lebanon radio (93.3) said the military carried out raids in the area to arrest the suspects.
It later reported that Dahham al-Sheikh Jilati, a Lebanese, and a Syrian named Aaqbeh Hamish were apprehended on suspicion of killing the soldier.
Also Thursday, Internal Security Forces Corporal Samer Dandashi escaped unharmed after he came under fire in the Tripoli area of Bab al-Ramel.
On Wednesday, an 11-year-old boy was killed from sniper fire in Tripoli.
The clashes renewed after an Alawite resident from the Jabal Mohsen neighborhood died when unknown assailants opened fire at him near al-Ridani bakery, NNA said.
Tripoli has been rocked by repeated bouts of violence linked to the conflict in neighboring Syria, pitting its Sunni majority, who largely support the rebels, against the Alawite minority, who back President Bashar Assad.
Alawites make up 11 percent of the city's population. Sunnis account for 80 percent.
The Lebanese army, that has deployed in the city to calm the situation, has come under fire from gunmen from both sides. Several soldiers have been killed and injured in the different rounds of fighting that the city has witnessed.
Naharnet