Death penalty verdict for man who stabbed and killed wife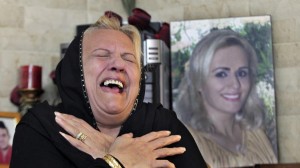 Manal Assi's husband, Mohammad Nheili, who beat her to death in February, was indicted with murder punishable by death, KAFA (Enough Violence & Exploitation) reported Thursday.
Nheili used sharp tools to attack his wife who subsequently bled for hours before being admitted into the Makased Hospital where she succumbed to her injuries.
He also prevented the emergency rescue team from entering the house and providing Assi with the needed medical aid.
The report added that the abusive husband called the mother and siblings of Assi to "witness the state in which their daughter is."
"The investigation judge issued an indictment against Mohammad Nheili, who is accused of killing his wife Manal Assi, charging him [with murder] according to Article 549 of the Penal Code which punishes anyone who commits murder with the death penalty," KAFA wrote on its Facebook page.
Now Lebanon