Obama wants EU free of Russian gas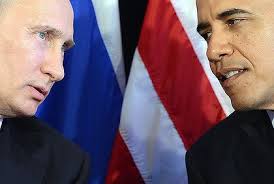 U.S. President Barack Obama told the European Union on Wednesday it cannot rely on the United States alone to reduce its dependency on Russian energy, as relations with Moscow chill over its seizure of Crimea from Ukraine.
Speaking on a visit to Brussels to discuss trade relations and the Ukraine crisis, Obama said concluding a new transatlantic trade pact, now under negotiation, would make it easier for Washington to license more gas exports.
The EU relies on Russia for about a third of its oil and gas, and tensions with Moscow have heightened concerns among its 28 members about the security of their energy supplies. Some 40 percent of that gas is shipped through Ukraine.
They have already stepped up efforts to reduce reliance on Russia but German Chancellor Angela Merkel said she supported asking Obama to relax restrictions on exports of U.S. gas.
"Once we have a trade agreement in place, export licences for projects for liquefied natural gas destined to Europe would be much easier, something that is obviously relevant in today's geopolitical environment," Obama told a news conference after meeting EU leaders, adding that it could not happen overnight.
During a 65-minute lunch, European Council President Herman Van Rompuy and European Commission President Jose Manuel Barroso pressed Obama to step up U.S. gas exports, but he responded bluntly in telling the Europeans they needed to take politically difficult steps to develop their own resources.
EU ambassador to Washington Jose Vale de Almeida quoted Obama as telling them: "You cannot just rely on other people's energy, even if it has some costs, some downside," in a clear reference to opposition in parts of the EU on environmental grounds to nuclear power and the extraction of shale gas.
The issue will also be discussed next week at a special meeting of EU and U.S. energy ministers, officials said.
The United States is well on its way to becoming self-sufficient in energy and reducing its industrial production costs because it has allowed large scale use of controversial fracking techniques to tap shale gas.
France and Bulgaria ban fracking and other EU countries such as Britain and Poland face protests.
In the wake of the worst financial crisis since the Great Depression, EU governments and the Obama administration see a deep and broad free-trade deal as the best way to create jobs, removing burdens and customs duties on businesses.
But eight months into the talks, public hostility has grown towards the idea of unfettered transatlantic commerce, while negotiators remain far apart on many issues.
Reports of the scale of U.S. National Security Agency spying in Europe have combined with concerns about the potential damage to food safety and the environment under a free-trade pact.
Obama said he had campaigned all his career for consumer rights and environmental protection and would not be party to an agreement that lowered standards. Protesters were reacting to distorted rumors around the trade talks, he said.
In both the United States and Europe, unions worry about job losses or reductions in working standards, and say a trade pact will serve the interests only of multinational companies.
TRANSATLANTIC TIES
Obama began his visit to Belgium by visiting the Flanders Field American war cemetery, visiting the graves of some of the 368 U.S. service members, most killed during World War One.
His visit and the symbolism of transatlantic unity had added resonance at a time when tensions in Europe are running high because of Russia's military occupation and annexation of Ukraine's Crimea region.
"This hallowed ground reminds us that we must never, ever take our progress for granted. We must commit perennially to peace, which binds us across oceans," Obama said.
If there were any doubts about the EU-U.S. relationship after last year's revelations of the scale of Washington's spying on its allies, Obama planned to assuage them later in the day, in a speech to some 2,000 guests, before leaving for Rome.
National Security Agency eavesdropping on Europeans' emails and mobile phones was mentioned only briefly at the joint news conference, with Van Rompuy welcoming Obama's initiatives to curb excesses by U.S. intelligence services and to reach a balanced data protection agreement with the EU by this summer.
During Obama's visit to The Hague this week, the United States and Germany, France, Britain and Italy, along with Japan and Canada, warned Russia that it faced damaging economic sanctions if it took further action to destabilize Ukraine.
Obama reiterated the threat in Brussels and said governments in Washington and Europe were discussions possible measures against Russia's energy sector, a lifeline of its economy.
TOUGH TRADE TALKS
The European Union and the United States already trade almost $3 billion in goods and services each day and, by intensifying economic ties, the pact could create a market of 800 million people where business could be done freely.
Politicians on both sides say a trade pact encompassing almost half the world's economy could generate $100 billion in additional economic output a year on both sides of the Atlantic and set the standards for global business before China does.
About 50 campaigners against a deal protested outside the European Parliament on Wednesday, wearing giant Obama masks and waving banners reading 'No GMO (genetically modified organisms) in our food'.
"What is at stake is the safety of our food and the environment," said EU lawmaker Philippe Lamberts, a member of the Belgian Green party.
"Worse, this trade deal is an instrument to allow big companies to do as they wish and trample legislation or write it themselves with lobbyists."
Inside the negotiating rooms, other difficult issues include removing customs duties that cost companies billions of dollars each year, particularly automakers such as Ford and Volkswagen.
Washington and Brussels have been at odds over an initial exchange of offers to open up markets and cut tariffs, with each saying the other has not been ambitious enough.