Geagea vows that next president will be from March 14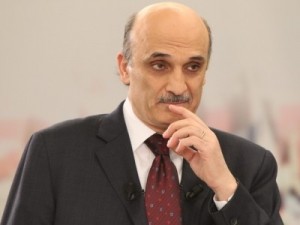 Lebanese Forces leader Samir Geagea said that the March 14 coalition will work hard on getting a candidate from its alliance elected as the country's new president.
"The presidential election battle is March 14's battle," Geagea said on Tuesday.
He went on to stress that the country needs a "bold" president who would express his opinions rather than act as a neutral head of state.
"The Lebanese need a president who [is not neutral], but rather takes clear and bold stances, because matters related to the [country's] border, sovereignty, fighting kidnapping gangs, and collecting non-state weapons cannot be dealt with by [simply being neutral]."
Earlier on Tuesday, Future MP Atef Majdalani confirmed that his bloc has no objection to Geagea representing the March 14 alliance in the upcoming presidential elections, and denied rumors that the Future Movement would support Free Patriotic Movement leader Michel Aoun as a presidential candidate.
Lebanon must see a new head of state elected prior to the end of President Michel Suleiman's mandate, which expires on May 25, to avoid any presidential vacuum, as Suleiman has repeatedly refused the extension of his tenure.
Elsewhere, the LF leader noted that Prime Minister Tammam Salam and Interior Minister Nohad Mashnuq addressed the issue of the rise in kidnappings in the country.
Geagea said that Salam and Mashnuq decided to "put an end to abduction operations once and for all" by implementing a "quick security plan" for the entire Beqaa region.
On Saturday night, Baalbek-Deir al-Ahmar Maronite Bishop Semaan Atallah escaped a kidnapping attempt when his car was chased by two four-wheel-drive vehicles on the Iaat-Deir al-Ahmar road.
The incident was the latest in a series of abduction operations to take place on Lebanese territory, notably in the Beqaa region.
Turning to the recurrent clashes in Tripoli, Geagea called for entrusting the troubled city's security to the state's security forces.
"There is only one possible solution, which is for the security forces and the Lebanese army to be in charge of the city's security once and for all."
"The army must be [the only force] on the ground, not a separating force between the warring groups," Geagea added.
Violence returned to the northern port city of Tripoli on March 13, when unknown assailants shot and killed Tripoli resident Walid Barhoum, reigniting Syria-linked clashes between the city's rival neighborhoods.
At least 25 people have been killed and over 175 injured in the latest round of battles pitting pro-regime Alawites from Jabal Mohsen against Sunnis from Bab al-Tebbaneh, who support the Syrian rebels.
Naharnet