Apple working to make emoji more ethnically diverse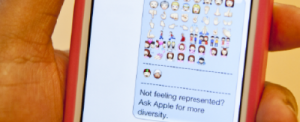 Apple has said it wants more ethnic diversity in the basic range of emoji available to text-messaging apps.
It added that it was working the body responsible for deciding the standardised range of graphic symbols that can be added to text messages to achieve this.
At present the list of characters contains dozens of faces of people that appear to be white.
However, only two of the symbols seem to be Asian and none are black.
Since 2010 a basic list has been developed and maintained by the Unicode Consortium – a Silicon Valley-based non-profit organisation made up of major computer firms, software producers, user groups and others.
It does this to ensure that different devices and mobile carriers can share a basic set.
Although some apps offer to boost the number of emoji that a user can send and receive, users risk their friends being unable to view them if they haven't installed the same software.
Despite the fact that emoji first became popular in Japan, Unicode's current list only features two Asian people – a "man with a turban" and a "man with Gua Pi Mao", a type of Chinese hat – although it does include a Japanese ogre and Japanese dolls.
Diversity petition
Apple, Google, Microsoft and other tech firms design their own versions of how the more than 800 basic emoji characters appear, but they tend to stick to the ethnicities portrayed in the reference list.
"Our emoji characters are based on the Unicode standard, which is necessary for them to be displayed properly across many platforms," Katie Cotton, Apple's vice-president of worldwide corporate communications, told MTV.
"There needs to be more diversity in the emoji character set, and we have been working closely with the Unicode Consortium in an effort to update the standard."
The broadcaster approached the company after a petition was posted to DoSomething.org calling on Apple to increase the ethnic diversity found within its emoji keyboard.
"There's a white boy, girl, man, woman, elderly man, elderly woman, blonde boy, blonde girl and, we're pretty sure, Princess Peach," it said.
"But when it comes to faces outside of yellow smileys, there's a staggering lack of minority representation."
It added that the keyboard already offered a graphic showing a same-sex couple, and called on the company to present people with a wider range of skin tones.
'Expressive power'
Bernie Hogan is studying the use of emoji as part of his research into how people represent themselves on the net.
The Oxford University research fellow said it sounded like a trivial problem but many smart device owners had become reliant on the tool.
"Emoji exist first and foremost as a way to augment texts with clear expressive power," he told the BBC.
"If they restrict the sort of people who are used in the images it restricts users' expressive power – people won't feel that the emoji speak for them."
There are calls to widen Unicode's list even further.
The Wall Street Journal has reported on campaigns to include hotdogs, cupcakes, bacon and tacos to the list, which currently includes sushi, fried shrimp and a bento box as a result of it Japanese origins.
However, Mr Hogan warns there are dangers with expanding it too far.
"There will always be more potential icons than you can reasonably put in a system," he said.
"It can't realistically be the responsibility of any particular organization or consortium to be able to provide all possible icons in a usable format.
"But that being said, in terms of racial diversity it's very fair to think the range should be extended."
BBC