Bomb found near Lebanese University in Tripoli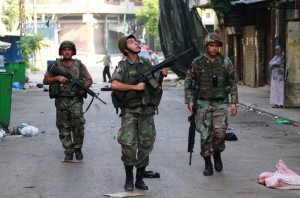 The Lebanese army defused on Monday dynamite sticks at the science faculty of the Lebanese University in al-Qobbeh area of the northern city of Tripoli, the state-run National News Agency reported.
The army found inside the campus 400 grams of dynamite sticks that were rigged to explode, NNA said.
The soldiers immediately defused them and seized them, the agency added.
MTV said there would have been a disaster had the sticks of dynamite exploded.
Tripoli has been engulfed in the past 12 days in deadly clashes between supporters of Syrian President Bashar Assad and residents who back the uprising against him.
The city has seen intense sectarian clashes since the war in Syria erupted three years ago, with gunmen from the Sunni district of Bab al-Tabbaneh battling fighters in the Alawite area of Jabal Mohsen.
Naharnet