Putin makes Crimea part of Russia, laughs off Western sanctions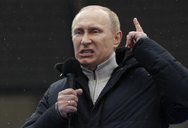 Russian President Vladimir Putin signed laws completing Russia's annexation of Crimea on Friday, as investors took fright at a U.S. decision to slap sanctions on his inner circle of money men and security officials.
Putin promised to protect a bank partly owned by an old ally, which Washington has blacklisted, and his spokesman said Russia would respond in kind to the financial and visa curbs.
Russian shares fell sharply after President Barack Obama also threatened on Thursday to target major sectors of the economy if Moscow tried to move on areas of Ukraine beyond the Black Sea peninsula. The financial noose began to tighten as Visa and MasterCard stopped processing payments for a Russian bank owned by two brothers on the U.S. blacklist.
European Union leaders – who like Obama insist Crimea is still part of Ukraine – expressed their determination to reduce the bloc's reliance on Russian energy, and signed a political deal with the Kiev leadership that took over after Moscow-backed President Viktor Yanukovich's ouster last month.
In a Kremlin ceremony shown live on state television, Putin signed a law on ratification of a treaty making Crimea part of Russia as well as legislation creating two new Russian administrative districts: Crimea and the port city of Sevastopol, where Moscow keeps part of its Black Sea fleet.
Officials and lawmakers in Moscow have largely laughed off Western sanctions imposed after Russian troops seized control of Crimea. A referendum last Sunday in the majority Russian-speaking region – which overwhelmingly backed union with Russia but was denounced by Washington and the European Union as a sham – then opened the way for annexation within a week.
Obama's decision to go for the financial jugular of the people who accompanied Putin's rise from the mayor's office in St Petersburg in the 1990s to the Russian presidency has deepened the diplomatic confrontation.
Putin said Bank Rossiya, singled out by Washington as the personal bank for senior Russian officials, had nothing to do with the events in Crimea.
The St Petersburg-based bank – which is chaired and partly owned by Yuri Kovalchuk, an old associate of Putin's – mainly serves clients in Russia's energy sector including businesses owned by state-run gas producer Gazprom.
Putin, who says the people of Crimea have exercised their right to self-determination, promised to transfer his wages to Bank Rossiya. "I personally don't have an account there, but I certainly will open one on Monday," he told a meeting of Russia's Security Council.
Other names on the U.S. blacklist includes oil and commodities trader Gennady Timchenko and the brothers Arkady and Boris Rotenberg, who are linked to big contracts on gas pipelines and the Sochi Olympics, as well as Putin's chief of staff and his deputy, the head of military intelligence and a railways chief.
Russian Deputy Finance Minister Alexei Moiseev said he expected no big immediate impact from the sanctions.
Energy union
Much of Europe relies heavily on Russian oil and gas exports, making it susceptible to any retaliation by Moscow. European Council President Herman Van Rompuy said EU countries would help one another to maintain supply if Moscow cut supplies. "We are serious about reducing our energy dependency," he told a news conference at the end of a summit in Brussels.
The mere announcement of such intentions would have a chilling effect on investment in Russia, Van Rompuy said.
Russia has cut the flow of gas to Ukraine in the past, leading to reduced supplies to EU countries that are transhipped through the former Soviet republic, even though Putin was not targeting the West.
EU countries, which buy Russian gas individually, will also look to negotiate supply deals jointly with Moscow to increase their bargaining power. "It is clear we need to be moving towards an energy union," said Van Rompuy.
German Chancellor Angela Merkel said confidence in Russian energy supplies was dwindling and raised the possibility that U.S. shale gas could eventually be an option for European countries seeking to diversify.
Obama is expected to address the issue when he holds a summit with EU leaders next Wednesday.
Underlining how Washington can apply pressure via the international financial system, U.S. credit card companies Visa and MasterCard stopped providing services for payment transactions with Russia's SMP bank, owned by the Rotenberg brothers, the bank said.
SMP called the moves unlawful and foreign banks and companies now fear the secondary ripple effects of the sanctions. In a worst-case scenario for them, Washington would stop banks doing business with Russian clients, similar to the sanctions that were imposed on Iran.
"What has been announced so far is really nothing. It's purely cosmetic," said a French banker based in Moscow.
"The biggest risk is tougher sanctions and really the potential impossibility of transfers in U.S. dollars," said the banker, declining to be named. "Being able to make payments in dollars is crucial for the Russian economy, which is dependent on energy exports. It would really hurt us domestically."
Obama said Washington was also considering sanctions against economic sectors including financial services, oil and gas, metals and mining and the defense industry, if Russia made military moves into eastern and southern Ukraine.
EU support for Kiev
In Brussels, the 28 EU leaders underlined their support for Ukraine's new leadership following Yanukovich's fall in street protests. They signed a political agreement with interim Prime Minister Arseniy Yatseniuk and promised financial aid for the government – rejected as illegitimate by Moscow – as soon as Kiev reaches a deal with the International Monetary Fund.
The IMF is to report next Tuesday on advanced talks with Ukraine on a loan program that would be linked to far-reaching reforms of the shattered economy.
Three months of protests were set off by Yanukovich's refusal to sign an association agreement with the EU, the political part of which was signed on Friday.
The EU agreed to impose asset freezes and visa bans on 12 more mid-ranking Russian and Crimean officials and to consider wider economic sanctions if Russia further destabilizes the situation in Ukraine. But the EU does not have a legal basis to extend personal sanctions against Putin associates without proof of their involvement in the violation of Ukrainian sovereignty.
"Small measures in the EU are worth more than big measures in the United States," a senior European official said, noting that EU trade with Moscow was 10 times the U.S. volume.
Russia's MICEX stock index fell about 3 percent when trade opened, although it recovered some of the losses later. Promsvyazbank analyst Oleg Shagov said Obama had "opened a Pandora's box full of sanctions", with future sanctions to be "directed against whole sectors of the Russian economy".
Negative market sentiment was reinforced by warnings from credit ratings agencies Fitch and S&P that they were changing their outlooks on Russia to negative from stable because of the possible impact of sanctions on Russia's economy and business climate. Both agencies presently rate Russia BBB.
Prime Minister Dmitry Medvedev made clear that Russia would step up financial pressure on Ukraine. He said the former Soviet republic should repay Moscow $11 billion under a gas supply contract that should be scrapped because it no longer applied.
Medvedev said the agreements under which Russia was to provide cheap gas in return for the lease of the Sevastopol naval base in Crimea were "subject to denunciation", giving Russia a legal right to sue for money back from Ukraine.
Altogether, Kiev owed Moscow $16 billion, he added.
AP