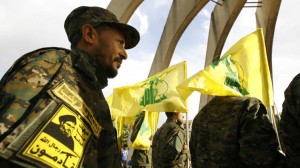 The March 14 General Secretariat called on the government to file complaints with the Arab League and the U.N. over the latest Syrian shelling of border areas, urging Hizbullah to take a "clear and frank stance over the Syrian regime's attacks."
In a statement issued after its weekly meeting, the general secretariat said it "thoroughly discussed the Syrian regime's recurrent violation of Lebanese sovereignty through ground and aerial shelling and its assassination and chasing of innocent Lebanese citizens with military helicopters."
"These repeated attacks push us to call on the Lebanese government to file complaints against the Syrian regime with the Arab League and the United Nations, and we also called on Hizbullah to take a clear and frank stance over the Syrian regime's attacks on national sovereignty," it added.
The general secretariat emphasized on the authority of the Lebanese state in "controlling security domestically and on the Lebanese-Israeli and Lebanese-Syrian borders," noting that "the only solution that can preserve security is the deployment of the army along the Lebanese-Syrian border, with the assistance of U.N. forces as allowed by (U.N. Security Council) Resolution 1701," which ended the 2006 war between Israel and Hizbullah.
Turning to the recent standoff over the border town of Arsal, the general secretariat lauded the announcement about the entry of the Lebanese Army and security forces into Arsal and its outskirts, praising the town's residents for "their compliance with this necessary step."
The general secretariat also called on the army to "control security and secure the public roads to prevent the besiegement of any town on the area … at the hands of armed militias under the pretext of stopping the flow of bomb-laden cars into Lebanon."
Commenting on the protests and blocking of roads that erupted across the country to demand the opening of the al-Labweh-Arsal road, the general secretariat said the unrest "evoked the scenes of the civil war"
It stressed the government must shoulder its responsibility and "implement the law fairly in all Lebanese regions so that no one in Lebanon would sense that there are double standards."
And on the occasion of Mother's Day, the general secretariat greeted all Lebanese mothers, "especially those of them who are awaiting any news about the fate of their sons who are in Syrian prisons."
It urged Lebanese security agencies, "especially those who exerted lauded efforts for the release of the Syria nuns," to employ all available means to secure "the release of Lebanese detainees from Syrian jails."
Naharnet
This error message is only visible to WordPress admins
Error: No connected account.
Please go to the Instagram Feed settings page to connect an account.