Syrian helicopter bombs outskirts of Arsal near border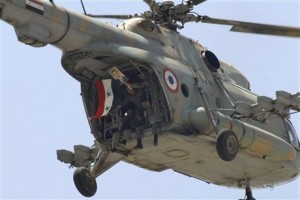 A Syrian helicopter bombed on Wednesday the outskirts of the Lebanese Beqaa town of Arsal, National News Agency reported.
Voice of Lebanon (93.3) reported that the Syrian helicopter chased gunmen fleeing the Yabroud area towards Lebanon.
Lebanon's border regions have witnessed numerous rocket attacks and other security incidents, as fighting continues between rebel and regime troops across the border in Syria.
Over the weekend, Syrian regime troops backed by Hezbollah fighters took over the town of Yabroud, east of Arsal, sparking a mass exodus of Syrian refugees into the Lebanese border town and raising fears militants would be among the wave of people coming to Arsal.