Hezbollah seals off Lebanese border town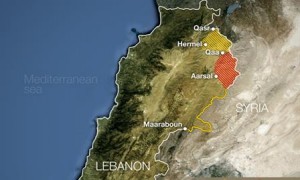 A local Lebanese official says gunmen from the militant Shiite group Hezbollah and Shiite residents have tightened their chokehold on a Sunni town near the Syrian border.
The standoff around the eastern Lebanese town of Arsal is the latest in an ever-growing spillover of the Syrian conflict into its smaller neighbor.
Ahmad Fliti, the deputy mayor of Arsal, says Shiite gunmen set up roadblocks and closed off the road connecting the town to the rest of Lebanon, angry over recent rocket attacks and a car bombing by blamed on Sunni militants.
Fliti says the gunmen on Tuesday opened fire on cars from Arsal that tried to approach the roadblock.
He says concerns are rising that aid won't be able to reach thousands of Syrian refugees sheltered in Arsal.
Warning to Hezbollah
Future Movement bloc MP Assem Araji warned Hezbollah of waging an attack against the town of Arsal.
"Any sectarian adventure [attack] against Arsal, whether [waged] by Hezbollah or any other party, will definitely lead to a civil war," Araji told Kuwaiti newspaper As-Seyassah in remarks published Tuesday.
Araji also said that no rebels from the Free Syrian Army had entered Arsal.
"If there were gunmen who fled to Lebanon from Syria, then they would still be in bordering towns but none have entered Arsal at all," Araji said.
"Arsal is already [burdened] with more than 70 thousand Syrian refugees."
Associated Press/NOW