UAE: finding 48, 000 cig. butts on beach angers residents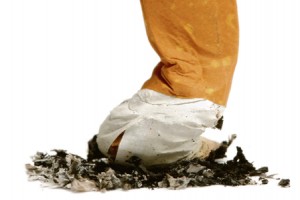 UAE residents have hit out at smokers after a whopping 48,000 cigarette butts were gathered in just 60 minutes during a clean-up on Umm Suqeim Beach in Dubai.
More than 350 people participated in the third annual Easa Saleh Al Gurg Group Beach Clean-Up. Volunteers collected an average of more than 300 disgusting stubs per person in the one-hour hunt, the group said.
With a cigarette weighing about 1g, the 48,000-butt haul roughly equates to about 20kg – or a holiday suitcase full of cigarette ends. The collection had non-smokers and many other residents fuming.
"Throwing cigarettes on a beach is so irresponsible," said Gerald Opsima. "I still see people put out their cigarettes in the sand like it's nothing. Do they think about who is going to clean it up? It's damaging to the environment."
American doctor Mark Janowski, from the Dubai Physiotherapy and Family Medicine Clinic in Jumeirah, said simply: "That's gross."
He added: "Anything to do with cigarettes and smoking can lead to cancer, including cigarette butts."
Janowski said there are 200 carcinogens, such as formaldehyde, in cigarettes. He said that if a young child picked up a butt and put it in their mouth, it could prove harmful. The same goes for birds, he added.
Dr Janowski added: "All the carcinogens in the cigarette butt are still trapped inside it. There's also a choking hazard too."
Smokers were quick to air their views. American Daniel Whitman, 32, said: "I'm sure there will eventually be a smoking ban on all beaches because of this, which, as a smoker, I won't be happy about. We are already restricted on when and where we can smoke – so I think smokers need to improve their habits."
But fellow cigarette fan Danya Khouzami insisted: "That number doesn't really shock me." The 24-year-old Lebanese national added: "I think people forget that it's litter. I'm even guilty of doing it sometimes without thinking."
People in Dubai who don't dispose of litter correctly – including cigarette ends – can be fined between Dhs500 and Dhs1,000. The fine in Abu Dhabi is Dhs200. Last year, Ajman Municipality also announced those caught littering could face up to Dhs10,000 in fines, the highest penalty in the UAE.
7 days in Dubai