Suleiman: Politicians must apologize to the Lebanese people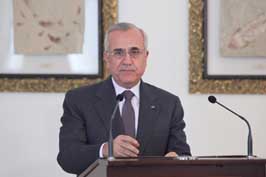 Lebanese President Michel Suleiman said on Tuesday during a ceremony at the presidential palace that the Baabda Declaration which serves the national charter and independence was not respected and therefore politicians must apologize to the Lebanese people.
"What was agreed upon in the Baabda Declaration was not respected and we must apologize to the Lebanese people who have accepted everything from us," Suleiman said at the " excellence award" ceremony in a possible reference to Hezbollah.
"The most important thing is the implementation of agreements we reached." Suleiman stressed and added:
" We haven't made enough efforts to force certain parties to respect the agreements we've reached." Another possible reference to Hezbollah.
Suleiman added:
"Parties that are not respecting the decisions of the Group would be held responsible for the failure to implement them."
He stressed that the "ministerial policy statement should be based on national consensus and for this reason should be written according to the Baabda Declaration."
"The Baabda Declaration is also the main reason why the support group for Lebanon was formed in New York and Paris and whoever opposes it would be hampering international aid. ."
He added:
"A huge international support paved way for the Saudi grant for the Lebanese army."
He urged the future governments to follow up on the donations made by certain countries to help the Lebanese army and the country's economy.
Suleiman announced towards the end of December that Saudi Arabia has pledged $3 billion to buy arms for the Lebanese Army from France to help support and strengthen the military and the International Support Group for Lebanon pledged US $17.8 million for the Lebanese Army last week in Paris.
Deadlock
President Suleiman and the March 14 alliance want the Baabda Declaration to be the basis for the policy statement, but the Hezbollah-led March 8 camp is insisting on basing the policy on the so called resistance formula: People + army + resistance. Resistance here means Hezbollah.
March 14's suggested formula is "Lebanon's right to defend itself,"
Speaker Nabih Berri, a key member of March 8 alliance warned his visitors that the ministerial committee tasked with drafting the policy statement has until March 17 to complete its work.
"If the document was not adopted by that time, the president should immediately call for new binding parliamentary consultations to name a new prime minster-designate," he said.
Berri revealed  on Tuesday that the committee tasked to draft a policy statement for the cabinet would study a new formula suggested by Progressive Socialist Party leader MP Walid Jumblatt.
The new 24-minister cabinet, formed after more than months of political bickering, has been preparing the ministerial statement to present to the parliament for a vote of confidence.