Mashnouq: Resistance is a right, a duty and a need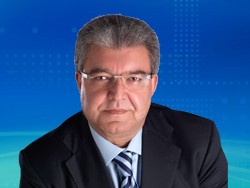 Lebanon's Interior Minister Nuhad al-Mashnouq declared on Monday that the resistance is a right a duty and a need on condition that its leadership does not have sectarian and political affiliations.
He was responding to Lebanese Speaker Nabih Berri who has been insisting that resistance formula be the basis fof the ministerial policy statement of the new cabinet .
"The March 14 ministers who are participating in the meetings to draft the ministerial statement are committed to the fact that resisting the Israeli occupation is a right, a duty, and a need, as long as it is not led by a sectarian faction that has foreign political affiliations ," Mashnouq said in a statement issued on Monday.
The word resistance in Lebanon refers to the Iranian backed Hezbollah Shiite militant group.
Mashnouq stressed that "the state is the reference for all the Lebanese who insist on their right for resistance, which was not mentioned in past ministerial statements that considered the resistance a personal right."
"We want the ministerial statement to be a first step towards a defense strategy that benefits from the ability of the controversial resistance and gives the state the right to decide on war or peace."
Berri, a close ally of Hezbollah reiterated his determination last week to mention the resistance formula in the ministerial statement.
"Abandoning the resistance is out of the question. Had this happened before, South Lebanon and Lebanon would not have endured," Berri was quoted as telling his visitors.
Phalange Party MP Sami Gemayel slammed last Thursday the Hezbollah led March 8 politicians who are calling for preserving the Lebanese's "right to resistance" in the ministerial statement.
"Does that mean that we will live in a jungle and give weapon licenses to all Lebanese?" Gemayel said in a statement last week following his meeting with Berri.
"There is no consensus on the concept of resistance," he added.
Gemayel went on to stress the importance of the Baabda Declaration, and said that "Hezbollah alone has its reservations against this Declaration."
President Michel Suleiman and the March 14 alliance want the Baabda Declaration to be the basis for the policy statement, but the Hezbollah-led March 8 camp is insisting on basing the policy on the so called resistance formula: People + army + resistance. Resistance here means Hezbollah.
March 14's suggested formula is "Lebanon's right to defend itself,"
Speaker Nabih Berri, a key member of March 8 alliance warned his visitors that the ministerial committee tasked with drafting the policy statement has until March 17 to complete its work.
"If the document was not adopted by that time, the president should immediately call for new binding parliamentary consultations to name a new prime minster-designate," he said.
The new 24-minister cabinet, formed after more than months of political bickering, has been preparing the ministerial statement to present to the parliament for a vote of confidence.