Amnesty accuses Assad regime of war crimes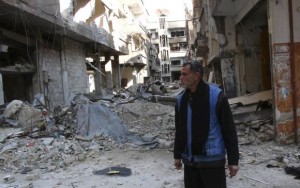 Amnesty International accused President Bashar al-Assad's forces on Monday of perpetrating war crimes as part of a siege in southern Damascus which has killed nearly 200 people, mostly by starvation.
Yarmouk, once home to hundreds of thousands of Palestinian refugees and Syrian nationals, is one of several districts on the edge of the Syrian capital which the army has surrounded to choke off rebel forces seeking Assad's overthrow.
"The Syrian government has committed numerous war crimes as part of the siege of Yarmouk," Amnesty said in a report released on Monday.
"Hundreds of civilian residents of Yarmouk have been killed, wounded or have perished as a result of deliberate starvation and destruction of their means of support, direct attacks on civilians and indiscriminate attacks."
Mainly Sunni Muslim rebels in northern Syria have also besieged two Shi'ite towns, but most of the blockades across the country have been carried out by Assad's forces.
Only around 20,000 residents remain in Yarmouk, living under a siege which started in late 2012 but was tightened in July last year when fighters from al Qaeda's Nusra Front and the Islamic State in Iraq and the Levant, which had moved into the district, clashed with the army.
Amnesty listed 194 people it said were civilians who had died in Yarmouk since then. Two thirds were reported to have died of starvation, the London-based human rights group said.
Under an agreement reached in mid-January, the United Nations relief agency for Palestinian refugees UNRWA has distributed food to the remaining Yarmouk inhabitants, but its work has been interrupted by continued fighting and it says the food which has reached Yarmouk is inadequate.
UNRWA spokesman Chris Gunness said on Monday that clashes and shelling continued in Yarmouk over the weekend and the agency had not been able to deliver humanitarian aid for the last nine days.
"The siege of Yarmouk amounts to collective punishment of the civilian population," said Amnesty's regional director Philip Luther.
"The Syrian government must end its siege immediately and allow humanitarian agencies unfettered access to assist its suffering civilians."
Reuters
Photo: A man stands amid the rubble of damaged buildings at the Palestinian refugee camp of Yarmouk, south of Damascus February 18, 2014.
CREDIT: REUTERS/STRINGER