Army confronts Hezbollah gunmen in Beqaa, CNA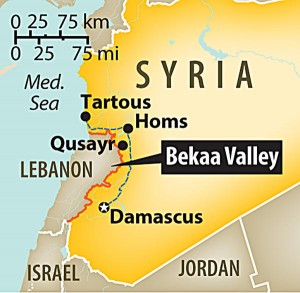 Lebanese Army troops and Hezbollah gunmen engaged in a brief confrontation Friday in the Beqaa valley in East Lebanon at an illegal checkpoint that was erected by the Iranian backed Shiite  militant group , Central News Agency ( CNA) reported.
Brig. Gen. Abdelsalam Samhat who heads up the Lebanese Army Intelligence unit in the Bekaa Valley asked the Hezbollah gunmen to remove the checkpoint they had erected on the main road leading to the village of Labweh, but the gunmen refused.
The Army Intelligence Intelligence convoy then drove away toward the city of Baalbek, and both sides fired several warning shots in the air, CNA added.
Half an hour later, a second confrontation occurred between the army and a different group of Hezbollah gunmen, who were also erecting illegal checkpoints near the village of Nabi Othman.
Contacts between the Army Command and Hezbollah officials helped contain the incident, CNA added