Ukraine's Crimea raises stakes with secession vote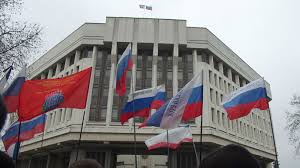 The Moscow-backed government of Crimea set a referendum in 10 days to ratify its decision to secede from Ukraine and join Russia, dramatically escalating tension as the West tries to negotiate a withdrawal of Russian troops from the area.
The step Thursday came as Western diplomats were huddled in Rome with their Russian counterparts to end the political standoff, and just two days after President Vladimir Putin said Russia wasn't interested in annexing Crimea.
U.S. and European leaders said such a referendum would violate the Ukrainian constitution and international law.
"Any discussion about the future of Ukraine must include the legitimate government of Ukraine," President Barack Obama said at the White House. "In 2014, we are well beyond the days when borders can be redrawn over the heads of democratic leaders."
A Russian move to absorb Crimea against the will of Ukraine's national government in Kiev would mark the first time since World War II that such a maneuver had been attempted in Europe.
"This is an illegitimate decision. This so-called referendum has no legal grounds at all," said Ukraine's Prime Minister Arseniy Yatsenyuk, who was in Brussels meeting with European leaders working to forge a response. "Crimea was, is, and will be an integral part of Ukraine."
Shortly after the Crimean legislature's decision, the White House imposed visa restrictions and laid the groundwork for potential sanctions on those who have worked to destabilize Ukraine.
At an emergency European Union summit in Brussels, leaders said that if Russia doesn't begin negotiations with Ukraine within days and quickly produce results, the bloc would follow through with its own sanctions on Moscow, including travel bans and asset freezes.
"These last days have seen perhaps the most serious challenge to security on our continent since the Balkan wars," said Herman Van Rompuy, president of the European Council, who chaired the summit. "We strongly condemn Russia's unprovoked violation of Ukraine's sovereignty and territorial integrity."
Crimea has been under de facto military occupation since Feb. 27, when thousands of heavily armed men seized key locations on the peninsula and effectively cut it off from the rest of Ukraine. The men were wearing unmarked uniforms but were widely believed to be Russian soldiers, many from Russia's Black Sea Fleet, which is based in the Crimean port of Sevastopol.
WSJ
Photo: Crimean Parliament