Kidnappings in Beqaa Lebanon are on the rise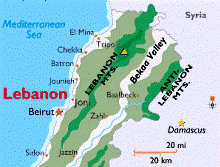 A Beirut-based Danish journalist was abducted in Lebanon and held hostage for almost one month, his former employer, Danish broadcaster DR, said on Friday. He was set free Today.
"Jeppe Nybroe was abducted just under a month ago, while he was in the Beqaa Valley in eastern Lebanon, near the Syrian border," DR said on its website.
Nybroe was kidnapped by "criminal gangs" after renting a car in Beirut and driving towards the Beqaa valley, near the Syrian border, together with a Lebanese journalist, Danish media reported.
"We still don't know exactly where they were taken from, the border area around Arsal is unclear," Ayman Mhanna of the Samir Kassir Eyes Centre, a local press freedom group, told AFP.
Last November it was reported that for nearly three weeks, kidnappers held Lebanese pharmacist Wissam Khatib, threatening to kill him and his children if his family didn't pay a ransom of tens of thousands of dollars.
During his captivity, Khatib – often shackled and blindfolded – went through depression, terror, pain.
And today the young son of Zahle businessman Ibrahim Saqr was kidnapped in the morning from in front of his house, sparking protests in the Beqaa town .
Prime Minister Tammam Salam ordered security forces on Friday to resolve the case of the kidnapping of Michel Saqr and bring the perpetrators to justice.
Salam gave the order to proceed swiftly with the case in a call with Defense Minister Samir Moqbel and Interior Minister Nohad Mashnouq, who briefed him on the details of the case, the National News Agency reported on Friday.
He also made calls to Amal and Hezbollah leadership in which he asked them to assist the formal authorities in resolving the issue.
The common denominator of all these kidnappings is the Beqaa region a Hezbollah stronghold in east Lebanon near the Syrian border.
This is perhaps why Salam contacted the Hezbollah and Amal leadership for help .
Hostage-taking in Lebanon has risen more than seven-fold in an unlikely knock-on effect from Syria's civil war according to local reports .