Cabinet failed again to reach a decision on policy statement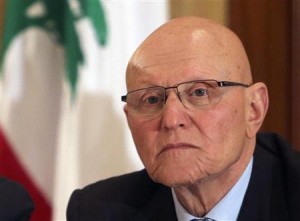 The Ministerial committee charged with drafting the new cabinet's policy statement failed again on Friday to reach a decision after meeting for the ninth time.
The committee will hold its tenth meeting on Tuesday at 3:00 p.m. to try and reach an agreement.
"There are no new initiatives so far," Health Minister Wael Abou Faour, the committee's spokesman, told reporters after the meeting.
Voice of Lebanon radio (93.3) said "the atmosphere is not positive and each party is insisting on its viewpoint regarding the resistance clause."
"Some ideas were discussed in the panel's meeting but no new formulas were suggested," the radio station quoted Telecommunications Minister Butros Harb as saying.
Foreign Minister Gebran Bassil was quoted as telling his colleagues in the session that "failing to reach a policy statement means there will be no cabinet."
President Michel Suleiman and the March 14 alliance want the Baabda Declaration to be the basis for the policy statement, but the Hezbollah-led March 8 camp which includes Bassil is insisting on basing the policy on the so called resistance formula: People + army + resistance. Resistance here means Hezbollah.
Speaker Nabih Berri, a key member of March 8 alliance warned his visitors that the ministerial committee tasked with drafting the policy statement has until March 17 to complete its work.
"If the document was not adopted by that time, the president should immediately call for new binding parliamentary consultations to name a new prime minster-designate," he said.