Putin on Ukraine: What he said, and what he meant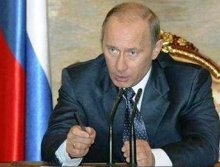 Vladimir Putin broke his long public silence over events in Ukraine Tuesday, speaking to a small group of Russian journalists at his official residence just outside Moscow. Looking relaxed, and speaking in his usual deadpan voice, he reiterated the main points of Russia's case for its military operation in Crimea, and warned that wider action was still on the table. His main talking points:
● Moscow rejects the way the government in Kiev was changed after months of political upheaval and street violence, but also on principle will never accept revolution as a means of taking power in any other part of the post-Soviet area in future. "I strictly object to this form [of changing power] in Ukraine, and anywhere in the post-Soviet space. This does not help nurturing a culture of law. If someone is allowed to act this way, then everyone is allowed to. And this means chaos. That's the worst thing that can happen to a country with an unstable economy and an unestablished political system," Mr. Putin said.
In other words, if people in Russia or other former Soviet countries are watching events in Kiev and thinking they might remove their own autocratic leaders in similar fashion, the swift Russian military reaction of the past few days in Crimea is an example of what they may expect.
● Russia does not want war with Ukraine, but reserves the right to intervene to protect Russian-speakers from persecution. "If we see this lawlessness starting in eastern regions, if the people ask us for help – in addition to a plea from the legitimate president, which we already have – then we reserve the right to use all the means we possess to protect those citizens. And we consider it quite legitimate. But we are not going to war against the Ukrainian people," he said.
Translation: With Crimea now fully under Russian control, Moscow is working up contingency plans to take similar steps in eastern parts of the country, where unrest is spreading. But Putin on Tuesday suspended Russia's military alert on Ukraine's border, suggesting a breathing space, and time for politicians in Kiev to reflect on their options.
● Moscow is "not likely" to annex Crimea. "Russia is not considering the option to adjoin Crimea. Only the citizens may and should decide on their future in the conditions of free expression of will and security," Putin said.
Takeaway: Crimean independence, similar to that enjoyed by the Georgian breakaway territories of Abkhazia and South Ossetia is very much on the table.
● The Kremlin regards deposed Ukrainian President Viktor Yanukovych as the legitimate leader of the country, but really doesn't like him. Mr. Yanukovych, who made his own case to world media from the Russian city of Rostov last Friday, reportedly penned a letter to Putin on Saturday asking for Russian help to restore law and order in Ukraine.
But Putin, who told journalists that he met Yanukovych two days ago, cheerfully admitted that his former Ukrainian counterpart's career was probably finished. "Only one legitimate president can legally exist, it is clear that he does not have any power. But I have already said about it and want to repeat that only Yanukovych is certainly a legitimate president purely in legal terms," he said. But he added the acting president appointed by the new government in Kiev will not be officially recognized by Moscow, and even the present Ukrainian parliament is only "partially legitimate."
The signal: Moscow would be open to negotiating with a new government in Kiev, and happily throw Yanukovych under the bus, but strict Russian political conditions would have to be met.
● Russia will only recognize a new Ukrainian government after nationwide elections have been held. But they must not take place in the same "atmosphere of terror" that was created by the abrupt overthrow of Yanukovych in Kiev ten days ago. Putin added the intriguing suggestion that Ukrainians might escape from their present impasse by rewriting their national charter. "Frankly, they should adopt a new constitution through a referendum so that all citizens of Ukraine feel engagement in that process, have an input on the formation of the new principles of how their nation should function."
A new constitution for Ukraine, prepared under Russian pressure, might enshrine the country's non-aligned status – thereby blocking NATO membership forever – or even "federalize" the country by spinning off powers to the regions and permanently weakening the central government, a situation that would suit Moscow just fine.
● As for the threat of Western sanctions against Russia, Putin says 'bring it on.' Alluding to Europe's dependence on Russian gas supplies, he noted, "Of course we can tarnish each other to some degree but this tarnishing will be reciprocal and this is something they should think about."
The message: Ukraine is more important to Russia than the threat of Western boycotts and sanctions. Period.
CSM