ADP denies its founder fled to Syria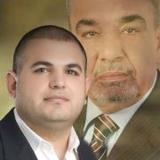 Arab Democratic Party Secretary-General Rifaat Eid denied on Wednesday that his father the party's founder and former MP, Ali Eid, had fled to Syria
"My father is living a normal life in Hikr al-Dahiri town in (the northern district of) Akkar," Eid said in comments to LBCI.
This development comes after Al-Mustaqbal newspaper reported on Wednesday that Eid escaped to Syria after an arrest warrant was issued against him.
"We were created to confront others not to run away," Eid's son Rifaat said in a possible reference to former Prime Minister Saad Hariri who left in 2011 for security threats against his life after his government was toppled by Hezbollah.
In November, State Commissioner to the Military Court Judge Saqr Saqr issued a search and investigation warrant against former MP Eid. On February 25 First Military Investigative Judge Riad Abou Ghaida also issued an arrest warrant in absentia for former MP Ali Eid.
During a press conference last November Eid was quoted as saying:
"Even if the master of the master of Judge Saqr Saqr came to get me I would not go to be interrogated," Eid said during a press conference last November
The Internal Security Forces Intelligence Bureau had summoned Eid to question his alleged involvement in the August double bombing in the northern city of Tripoli.
Eid's driver Ahmed Mohammed Ali is being held by the Intelligence Bureau on charges of smuggling to Syria Ahmed Merhi, one of the main suspects in the bombings against al-Taqwa and al-Salam mosques in Tripoli last August.
Last October seven people involved in the August bombings were charged, including three in custody. The majority are from the Tripoli neighborhood of Jabal Mohsen.
Forty-five people were killed and scores were wounded in the twin bombings.
Last november when Eid , a strong a staunch supporter of the Syrian regime was summoned the Syrian army deployed around his house in Hakr al-Dahiri which lies exactly on the Lebanese Syrian border .