Gunmen force U.N. envoy to end Crimean mission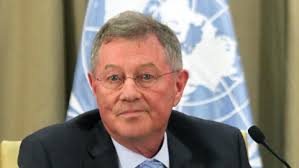 The United Nations special envoy to Ukraine ended his mission abruptly on Wednesday and agreed to leave the country after a standoff with armed men who blocked his car in the Crimea, ITV newsreports.
Robert Serry, the UN special representative in Ukraine was "seriously threatened," UN Deputy Secretary General Jan Eliasson told reporters in New York by telephone from Kiev, adding that the "action should be seriously condemned."
"He was not kidnapped but he was seriously threatened," Eliasson said.
Serry was reportedly surrounded after leaving a Ukrainian naval base in Simferopol where he had held talks with a naval commander.
ITV News' Europe Editor James Mates reported that Serry left his car, which had been blocked by the armed men shouting "Putin! Putin!," and took refuge in a nearby coffee shop.
"The men, dressed in combat fatigues with some wearing pro-Russia black and gold arm bands, are not allowing anyone in or out of the shop," Mapes tweeted at the height of the confrontation.
The Ukrainian Foreign Ministry said Serry had been "abducted," but the U.N. immediately denied that characterization of the incident, ITV reported.
Mapes said that Serry had asked the ITV news team to stay with him during the ordeal. ITV quoted Serry's assistant as saying at least one of the men in the group who blocked the car was armed.
He later returned to the car and agreed to go straight to the airport and end his mission, ITV reported.
The incident occurred as diplomatic focus aimed at resolving the crisis in Ukraine switched to Paris with Secretary of State John Kerry expected to meet with his Russian counterpart Sergei Lavrov.
Kerry and Lavrov along with top diplomats from Ukraine and Britain will be in the French capital for a planned conference on Lebanon and the Syrian refugee crisis, but events in Ukraine's Crimea region are almost certain to overshadow those talks.
A meeting between NATO and Russia will also take place in Brussels Wednesday at the request of NATO Secretary-General Anders Fogh Rasmussen.
Attempts to diffuse tension between Kiev and Moscow come as the European Union said it would release over the coming years some $15 billion in loans and grants for Ukraine. European Commission President Jose Manuel Barroso announced the news while speaking in Brussels although he did not provide many details.
The promise of funds from the EU follows a pledge from the White House for a $1 billion loan guarantee for Kiev aimed at helping it reduce its energy reliance on Russia, which supplies the majority of Ukraine's natural gas.
The U.S. and European Union have threatened Russia with economic sanctions if it does not back down over Crimea, where it has built up a military presence and remains in de facto control of key infrastructure.
In a related development, the Organization for Security and Cooperation in Europe is sending a 30-person military observer mission to Ukraine, the Associated Press reports. In addition, another OSCE team that specializes in minority rights and freedom of the media is already in the Crimea.
The Russian state-owned RT.com notes that OSCE decisions are made by consensus, indicating that Russia — an OSCE member along with the U.S. — had to approve such a move, although the rules allow for a delegation to be sent without consensus in an emergency.
Kerry, speaking in Kiev, said on Tuesday that the use of international observers could address Moscow's claims that Russian minorities are being mistreated.
On Tuesday, Russian President Vladimir Putin appeared to signal in a news conference that he was holding off on a decision to take military action in Ukraine.
However, amid the ongoing crisis a Russian politician told the RIA Novosti news agency Wednesday that the Russian Senate was preparing a bill that would allow for the confiscation of American and European corporate assets located in Russia were sanctions to be introduced.
And speaking in Madrid ahead of his scheduled visit to Paris, Lavrov reiterated the Russian view made clear in Putin's address that Ukraine's ousted leader Viktor Yanukovych was overthrown in an illegitimate coup.
Lavrov, appearing beside Spain's Foreign Minister Jose Manuel Garcia-Margallo, said also that Russia was not in a position to order "self-defense" forces operating in Crimea back to their bases because these were "groups" spontaneously formed in Crimea by local communities and not Russian forces.
"If we indulge those who are trying to rule our great, kind historic neighbor, we must understand that a bad example is infectious," Lavrov said.
Ukraine's Foreign Minister Andriy Deshchytsia, speaking to the Associated Press on a flight from Kiev to Paris, said that Ukraine was not likely to go to war with Russia were it to attempt to annex Crimea.
USA Today