3 Arab countries recall envoys from Qatar for backing MB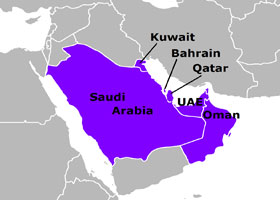 Three Arab countries recalled their ambassadors from Qatar over its perceived meddling in regional affairs, an unprecedented step that roiled regional markets on concern the six-member Gulf Cooperation Council is fraying.
Saudi Arabia, the United Arab Emirates and Bahrain pulled their ambassadors "to protect security and stability," the countries said in a joint statement. The decision follows a foreign ministers meeting in Riyadh yesterday, which failed to persuade Qatar to stop supporting "anyone who threatens the security and stability of GCC countries."
Gulf countries have been critical of Doha's backing for the Muslim Brotherhood, deviating from the union's crackdown on the Islamist organization. The dispute threatens to undermine efforts to integrate GCC economies, which supplies about a fifth of the world's crude oil. The alliance, created in 1981, has already been slow to integrate, delaying plans on a customs union, common currency and feuding over regional politics.
"This has to deal Qatar's continued support for the Muslim Brotherhood," Theodore Karasik, director of research at the Institute for Near East and Gulf Military Analysis in Dubai, said in a phone interview. "Members and supporters of the Islamic group are criticizing GCC countries from Doha."
Doha Backing
Qatar's benchmark QE Index for stocks tumbled 2.1 percent, the most since August, at the close in Doha. Dubai's DFM General Index fell as much as 0.9 percent before trimming losses to 0.5 percent.
Only Qatar among the Gulf monarchies backed the Brotherhood in Egypt, sending billions of dollars of aid when Mohamed Mursi was in power. Since Mursi's fall in July, Egypt has sent back some of the money, while Saudi Arabia, the U.A.E. and Kuwait pledged about $15 billion in assistance to Egypt's army under Abdelfatah al-Seesi.
"We hope it's a temporary blip," Yaser Abushaban, executive director for asset management at Emirates Investment Bank PJSC in Dubai, said by telephone today. "It's not yet clear how this impacts Qatar's relationship with the rest of the GCC members in the longer term, which could have implications for investing in Qatari markets and instruments."
An official at Qatar's foreign ministry declined to comment when contacted by phone.
Tensions within the group have worsened this year. Last month, the U.A.E. issued a letter of protest in response to criticism by Doha-based cleric Yusuf al-Qaradawi, who has close ties with Qatari royals and expressed support for the Brotherhood. Egypt last month summoned the Qatari charge d'affairs to demand the handover of Islamists who they alleged fled to Doha.
The withdrawal of the ambassadors reflects "the insistence of the other side to interfere in the domestic affairs of countries," Egyptian Foreign Ministry spokesman Badr Abdelatty said by phone.
Business Week