Unfortunate lighting gives Merkel a Hitler-style mustache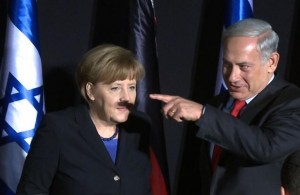 A hilarious photo of German Chancellor Angela Merkel with a shadow over her face resembling a toothbrush mustache made waves across social media Tuesday.
The unusual image shows Merkel meeting with Israeli Prime Minister Benjamin Netanyahu, who is seen pointing to his right. His finger casts an unfortunate shadow over Merkel's upper lip, giving photo viewers the impression that she is sporting a mustache in the style that German dictator Adolf Hitler made famous.
Journalists and spectators took to Twitter after the photo emerged to wildly comment on its unlucky illusion.
"Picture of the year so far, by Jpost photographer Marc Israel Sellem," Jerusalem Post reporter Ben Hartman tweeted.
The Wall Street Journal's Tom Gara, meanwhile, called the image "miraculous."
Merkel is visiting Israel to meeting with Netanyahu to discuss Iran's nuclear program and other Middle East issues.