Former world boxing champ Cermeno slain in Venezuela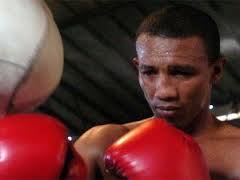 CARACAS, Venezuela, Feb. 25 (UPI) — Former WBA super bantamweight and featherweight world champion Antonio Cermeno was found dead Tuesday after being kidnapped in Venezuela, police said.
Authorities said Cermeno, 45, was found in bushes alongside a road, FightingNews.com reported. He had been abducted with three other people while traveling to Caracas on the Avacucho highway, the sports news website said.
Cermeno's companions escaped with the help of other motorists when their abductors stopped for gas at a service station, FightingNews.com said.
El Periodiquito reported the kidnapping occurred Monday night. The newspaper said his cause of death had not been determined and no arrests had been made.
El Periodiquito said Cermeno had multiple run-ins with the law outside the ring.
The Venezuelan boxer fought several title bouts in the mid-1990s and finished his professional career 45-7 with 31 knockouts.
UPI