Egypt Names Industrialist And Minister As Premier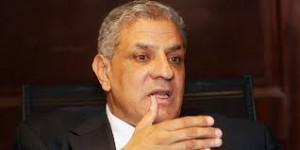 CAIRO — An industrialist who rose to prominence during the Mubarak era was named as Egypt's new prime minister on Tuesday, a day after his predecessor abruptly announced the resignation of the military-backed government that had managed the country since July.
The new prime minister, Ibrahim Mehlib, who headed a state-owned construction company and served in the last cabinet as housing minister, said at a news conference that he would name a new government within days. It will focus on improving living conditions, defeating terrorism and ensuring a smooth presidential election, which is expected to be held in the coming weeks, he said.
Egypt's popular military chief, Field Marshal Abdul-Fattah el-Sisi, is widely expected to enter the race, and he is already considered the front-runner.
Mr. Mehlib is the sixth person to occupy Egypt's often thankless post of prime minister since the uprising against President Hosni Mubarak three years ago, a period that saw the country's challenges turn into crises that seemed to defy government solutions. The sense of crisis deepened even further in July, when the military ousted the Islamist president, Mohamed Morsi, setting off months of bloody civil strife.
Mr. Mehlib is facing labor strikes, anger over power cutoffs and fuel shortages, and a campaign by militants that has targeted the security services as well as tourists. A sweeping campaign of state repression, against Islamist and other dissidents, has contributed to the almost permanent sense of unrest.
On Tuesday, courts in Alexandria sentenced more than 200 members of Mr. Morsi's movement, the Muslim Brotherhood, to terms of three to seven years in prison for holding protests against the military takeover, according to prosecutors.
Also on Tuesday, a court convicted three members of a prominent political party to three years in prison for posting fliers calling for a no vote on a constitutional referendum that the military-backed government worked assiduously to pass last month.
The promotion of Mr. Mehlib, who was a member of Mr. Mubarak's governing political party, comes amid growing criticism of the military rulers for rehabilitating the institutions and faces of Egypt's autocratic era. After months of silence, a cautious public discussion is surfacing about allegations of torture by the security services, and the detentions of thousands of political prisoners. There have also been rare, but audible, complaints about Field Marshal Sisi's possible presidential candidacy and the return of Egypt to military rule.
On Tuesday, Hala Shukrallah, the new head of the liberal political party Constitution, which supported the military ouster of Mr. Morsi, said Egyptians needed to ask questions about the "repercussions of the military's involvement in the political arena."
She spoke of a danger to democracy, without guarantees that a candidate would not represent a state agency, "or rely on its power in his electoral propaganda."
"The military responded to a certain moment regarding removing Morsi's rule," she said, adding that Egyptians were grateful. "This doesn't mean at all that an oath of allegiance is in place."
For his part, Mr. Mehlib avoided answering a question about whether Field Marshal Sisi would continue to serve in the cabinet — suggesting that the decision was not up to him.
The departing prime minister, Hazem el-Beblawi, did not say why he had chosen to resign, a decision that surprised his own ministers and contributed to the feeling that political decisions were still being brokered out of the public's sight.
Ms. Shukrallah said that Egyptians deserved to know why. "The people aren't a child that we need to hide secrets from," she said.
NY Times