NATO may exit Afghanistan without U.S. pact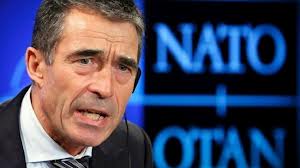 If Afghan leaders and the White House can't agree on a key security pact, the U.S.-led alliance will pull all of its troops and equipment out of Afghanistan by December, NATO's secretary general said Wednesday.
The announcement from Anders Fogh Rasmussen at the start of a NATO defence ministers meeting ratchets up the pressure on Afghan President Hamid Karzai to strike a deal.
On Tuesday, U.S. President Barack Obama threatened to withdraw all U.S. troops from Afghanistan by the end of 2014 if the pact isn't signed.
The U.S. and Afghanistan had agreed the details of a security pact last year, and the agreement was also endorsed by a council of 3,000 Afghan tribal elders known as the Loya Jirga. But Karzai caught Western officials off guard by then declaring he wanted his successor to sign the agreement.
Without that agreement, Rasmussen said, forces from other alliance member nations cannot stay either. There are roughly 19,000 non-U.S. forces now in Afghanistan, along with 33,000 Americans.
'Not our preferred option'
"Let me stress, this is not our preferred option," Rasmussen said. "But these are the facts — the facts that we need to take into account in our planning."
NATO's preference is to remain and shift in 2015 to a mission of training, assisting and advising Afghan security forces. "But if we don't have the legal framework in place, we will have to withdraw everything by the end of the year," said Rasmussen.
There was a note of exasperation in the normally composed Dane's voice as he mentioned the "continued delays we have faced," trying to secure a commitment from Afghan leaders.
"We stand ready to establish the training mission after 2014," he said. "But time is of the essence."
In Afghanistan, Gen. Martin Dempsey, chairman of the U.S. Joint Chiefs of Staff, was asked whether there is a deadline for deciding whether any U.S. or coalition troops will remain after 2014.
"I think the drop dead deadline – the answer will vary from coalition partner to coalition partner," Dempsey said. He said that was the conversation he was certain U.S. Defence Secretary Chuck Hagel and the other ministers would be having in Brussels.
"Each of those countries are likely to have a different answer to that question what's the drop dead date," Dempsey said.
CBA