Hezbollah military official killed in Israeli raid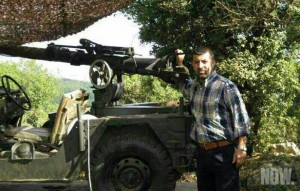 Hezbollah field trainer Hajji Hassan Mansour, known as Abu Haitham, was killed Monday in the Israeli raid that targeted the Beqaa area of Nabi Chit, according to a NOW report published on Tuesday.
His funeral will be held on Tuesday afternoon in his town of Ansar in Nabatiyeh, the report added.
Israel bombarded a Hezbollah position on the Lebanon-Syria border, according to a Lebanese security source and a Syrian NGO.
"Two Israeli raids hit a Hezbollah target on the border of Lebanon and Syria," the source said. The Syrian Observatory for Human Rights said the target was a Hezbollah "missile base" but it was not known if the strikes hit inside Lebanese or Syrian territory.
Residents of Nabi Chit ( Near Rayak airport) , on the Lebanese side of the border, said they saw flare bombs light up the sky ahead of the raids, which shook their houses.
Residents in neighbouring areas said they heard planes flying low before the raids.
Nabi Chit is a bastion of Hezbollah, which is helping the Syrian regime battle insurgents. The Shia group has a suspected weapons store and training camp there.
But the Hezbollah television station Al-Manar denied there had been any raid. It said" there has been
no raid on Lebanese territory", adding only "strong presence of enemy planes over the area north of Bekaa" in eastern Lebanon.
Israel did not immediately confirm or deny responsibility for the raids, but Prime Minister Benjamin Netanyahu said Tuesday that Israel was doing all that was "necessary" to ensure its security, AFP reported.
"We are doing everything that is necessary in order to defend the security of Israel," Netanyahu said at a joint news conference in Jerusalem with visiting German Chancellor Angela Merkel.