Meeting between Venezuelan rivals may ease tension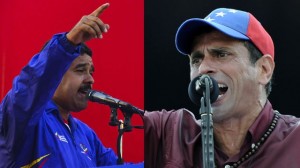 A meeting between a top Venezuelan opposition leader and President Nicolas Maduro on Monday may help ease nearly two weeks of violent anti-government protests that have killed at least eight people.
State governor Henrique Capriles will meet Maduro at a routine gathering of governors and mayors and will likely get a chance to present the opposition's grievances.
The daily unrest has sharpened the bitter divide between critics and supporters of the ruling Socialist Party, although even Maduro's rivals appear to be growing weary of blocked streets and constant clashes between students and police.
"Dialogue is not about listening to what the government wants to say, it's about making sure the demonstrators' voices are heard," Capriles, a two-time opposition presidential candidate, wrote on Sunday in his weekly column.
Five people have died from gunshot wounds in the unrest that began on February 12 with the death of a student protestor and was later fueled by the arrest of hard-line opposition leader Leopoldo Lopez.
A 23-year-old female student died on Saturday after being shot in the face with rubber bullets, while others have died in accidents caused by the roadblocks.
Maduro, who has vowed to nurture the self-styled socialist revolution he inherited from late president Hugo Chavez, calls the demonstrations acts of terrorism by "fascists" seeking a coup similar to the one that briefly ousted Chavez in 2002.
But he has expressed willingness to meet Capriles.
"Welcome, governor (to the meeting) … we'll speak there," said Maduro, 51, before a rally of supporters on Saturday.
His government has freed almost all of the nearly 100 students arrested during the recent unrest. That has been a central opposition demand, so could encourage dialogue.
Maduro received a group of senior citizens at the presidential palace on Sunday in one of several government events "for peace" in recent days that have been aimed at drawing a contrast with the opposition's protests.
The seniors, clad in red shirts, sat in the courtyard of the Miraflores palace listening to a folk music band.
BACKLASH AGAINST PROTESTS
The protests were initially presented as a renewal of a stagnant opposition movement, but have risked alienating moderates.
Roadblocks of burning trash and clashes between rock-throwing students and tear-gas-lobbing troops have shown no sign of forcing Maduro from power but have become a growing annoyance for the mostly well-to-do neighborhoods where they take place.
Many of Maduro's harshest critics were outraged when a young supermarket worker died late on Friday after driving his motorcycle into a cable stretched across a road as part of an improvised opposition roadblock.
"Who are you trying to convince by blocking your own street if your neighbors are already on your side?" Capriles said on Saturday at an opposition rally.
"Bravery is not throwing the most stones or talking the loudest, it is using ideas to change someone else's mind."
The unrest has been worst at night, when clashes between hooded students and the security forces have tended to break out. Most cities have returned to business as usual by day.
Residents of Caracas' poor west side have not launched many demonstrations, though government critics there have joined traditional protests of banging pots and pans at their windows during Maduro's hours-long television broadcasts.
The wave of violence has shifted attention away from economic troubles including inflation of 56 percent, slowing growth, and shortages of staple goods such as milk and flour.
The opposition attributes these problems to a collapsing economic system built on years of nationalizations, a corrupt currency control system and a constant refusal to heed the requests of private industry.
Maduro calls it an "economic war" led by the opposition.
The former bus driver calls himself the "son" of Chavez and has vowed to continue the generous public spending that helped reduce poverty and propelled the late president to repeated election victories over 14 years.
Opponents say socialism has crippled private enterprise and weakened state institutions while spawning a nepotistic elite that enriches itself with the country's oil wealth.
Reuters