Saudi pleads guilty to terror charges,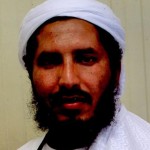 GUANTANAMO BAY NAVY BASE, Cuba – A long-held Saudi captive pleaded guilty Thursday to terror charges for serving as a personal shopper and facilitator for al-Qaida militants plotting suicide bombings of ships in the Arabian Sea.
Under the plea deal, Ahmad al Darbi, 39, could go home to Saudi Arabia after sentencing in August 2017 to serve out the remainder of a 9- to 12-year sentence, according to a statement from the chief prosecutor, Army Brig. Gen. Mark Martins.
Darbi appeared in court in a white button-down shirt and green tie for the proceedings, which traded an undisclosed sentence at Guantánamo in exchange for return to his native Saudi Arabia. His attorney, Ramzi Kassem, announced that Darbi pleaded guilty to all the non-capital charges. They include terrorism, attacking civilians, attacking civilian objects and hazarding a vessel.
In 2002, according to his charge sheet, Darbi bought navigational equipment and some vessels, mostly in the United Arab Emirates. They were intended to be used in an attack on a civilian oil tanker in the Strait of Hormuz in an al-Qaida campaign to damage the global economy.
Darbi also admitted to helping Yemenis get training to attack one or more civilian oil tankers.
Some of those resources ended up being used in an attack off Yemen on a Malaysia-bound, French-flagged oil tanker, the Limburg, on Oct. 6, 2002 — four months after Darbi's capture. A Bulgarian crew member, Atanas Atanasov, 39, was killed.
The judge, Air Force Col. Mark L. Allred, systematically led the Saudi captive through his plea agreement in a morning session. In response to a series of questions, Darbi agreed he didn't have to be present at a crime to be responsible for it.
"Obviously you were not there and were somewhere else," the judge said, noting it was a "a theory of vicarious liability" case.
Reports from Yemen last year indicated that U.S. drone strikes killed two other men also blamed for the Limburg attack.
Darbi's plea deal postponed actual sentencing until August 2017 under a cooperation agreement to meantime testify at military commissions. That suggests he could be used as a witness in the death-penalty trial of another Saudi – Abd al Rahim al Nashiri, accused of plotting the October 2000 attack on the USS Cole off Yemen that killed 17 American sailors as well as the Limburg bombing.
"Even if Darbi is not brought in to testify against Nashiri, things at Guantánamo Bay are heating up," said Heritage Foundation national security expert Cully Simson, a former Pentagon official who had oversight of detainee affairs.
The deal shows a flexing of the reach of the war court into international affairs. Prosecutors had argued that, because the goal of al-Qaida's Arabian Sea attacks was to damage the world economy, had it succeeded the American people would have suffered.
"Following sentencing, which will occur about three and a half years from now, it is possible Mr. al Darbi will be repatriated to the Kingdom of Saudi Arabia to serve the remainder of his sentence to confinement in a Saudi Arabian prison," Martins' statement said.
He credited the role of the State Department's Special Envoy for Guantánamo Closure, Clifford Sloan, as "pivotal to the efforts to coordinate assurances from the Kingdom of Saudi Arabia within the context of this plea agreement."
Darbi is at times described as the brother in law of one of the 9/11 hijackers, Khalid al Mihdhar, who crashed American Airlines flight 77 into the Pentagon on Sept. 11, 2001. In 1998, according to Darbi's classified U.S. military profile, the two men married Yemeni sisters in a "double wedding ceremony."
Darbi looked fit, chunky in fact, as he sat in court — alternately answering the judge in English and Arabic — after a year-long hunger strike that has simmered in the prison camps. It was his first war court appearance since President Barack Obama took office.
He becomes the sixth Guantánamo captive to plead guilty at the military commissions, the fifth during the Obama administration, in a deal to go home from the prison in southeast Cuba. He's also the first Saudi convicted of terror charges at Guantánamo.
Darbi was represented by his long-time defense attorney, Kassem, a City University of New York law professor who came to the case during the Bush administration, and Navy Lt. Theresa Champ.
Miami Herald