Lebanese nationals fleeing Syria in need of assistance, ICRC
The conflict in Syria has caused millions to flee their homes and seek shelter in safer areas, including in neighbouring countries. Among them are thousands of Lebanese nationals who, with no work and no property, now rely on humanitarian assistance, such as that provided by the ICRC.
"Are you sure that my name is on the list?" asked the elderly lady as she waited anxiously for her name to be called out. Oum Nawfal looked tired and worried as she leaned against the wall wiping her perspiring, wrinkled face. She has been waiting for hours to receive her share of assistance along with other Lebanese nationals who have been uprooted by the Syrian conflict.
"We have lost everything we owned in Syria, even our house was burned down. Only charred walls are still standing," said Oum Nawfal with a broken voice. The 70-year-old widow is among thousands of Lebanese who have become impoverished and uprooted by the brutal civil war in Syria, where they had been settled for generations and owned land and property.
Oum Nawfal and her ten children fled under the cover of darkness, despite the shelling that was raining down on their village of Nahrieh. They took refuge in Lebanon's border town of Hermel, where they have distant relatives.
"Our whole livelihood was in Syria. Everything we owned we left behind. It is all destroyed and we are now refugees in our own country," added Oum Nawfal. As Lebanese nationals, and even though they have never lived in Lebanon, the returnees are not entitled to the humanitarian assistance granted to refugees. However, they are often as vulnerable and as much in need.
Relying on relatives and associations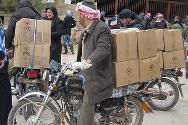 Hajjeh Fatima fled her village in Syria, where she has been living with her husband and ten children, almost two years ago. They are now renting a two-bedroom apartment in Hermel and rely on the help of relatives to secure furniture and food.
"We own nothing in Lebanon, not even a mattress, or blanket or pillow," she said. "We stayed with relatives in the beginning, but they could not sustain us for long and we had to move out," Hajjeh Fatima added, as she queued up to receive ICRC assistance.
Abbas, a 36-year-old father of three young children, had another sad story to tell. His cousin was killed just a few days before they were able to flee. "He was praying when a shell crashed into the house and blew him into pieces. I was lucky as I only got injured," he said.
Like many Lebanese returnees, Abbas is relying on relatives and associations to support his family. With the influx of Syrian refugees, a volatile security situation and economic depression, work opportunities are scarce, especially in the remote and underprivileged region of Hermel.
"If I am lucky I can get occasional small jobs for a few hours or for a day, but I can hardly cater for my family or make a living," Abbas said.
After almost three years of the destructive war in Syria, Lebanese returnees are currently estimated to be more than 17,000. The overwhelming majority are in need of basic assistance. In the past two months, the ICRC has provided 1,500 Lebanese nationals with food, mattresses, blankets, hygiene kits and kitchen utensils. The organization is planning to distribute more assistance in the coming weeks for the returnees in Hermel and north Lebanon, as well as other areas where needs are identified. The ICRC is also upgrading water infrastructures to help them cope with the population increase.
ICRC
Top Photo:  Hemel, Lebanon. Lebanese women who had to flee their home in Syria because of the conflict.