ADP official an Assad ally gunned down in Tripoli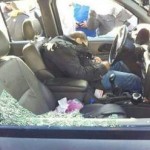 An Arab Democratic Party official, who is the father of one of the suspects in the mosque bombings in the city of Tripoli in northern Lebanon , was shot dead Thursday in the area of al-Mina.
Abdul Rahman Diab, a resident of the mostly Alawite Jabal Mohsen neighborhood, known also as Aboudi Nwasi and father of mosques bombing suspect Youssef Diab was gunned down in his car by an unidentified motorcyclist, according to local reports.
Diab was a senior official in the Arab Democratic Party in charge of "military" affairs, according to AFP
Youssef ,who admitted to parking a booby-trapped car that exploded near al-Salam mosque was detained following bombings last August and has been charged along with several others in connection with the bombings of the two mosques in Tripoli.
The charges include the formation of an armed gang for the purpose of carrying out terrorist activities and the bombing of al-Taqwa and al-Salam mosques on August 23.
Meanwhile, National News Agency also reported that LAF troops blocked the Tripoli-Akkar road after gunfire erupted between the rival neighborhoods of Bab al-Tebbaneh and Jabal Mohsen.
It also said that three people were injured in the recent clashes and that the LAF was retaliating to the source of fire.
Jabal Mohsen, where most residents share the Alawite faith of Syrian president Bashar al-Assad, has long been a bastion of support for his regime, while residents of Bab al-Tebbaneh back the Sunni-led revolt. Its militants and the Bab al-Tebanneh residents have clashed on numerous occasions since the Syrian civil war erupted in 2011.