Death toll of Beirut's twin suicide bombings rises to 12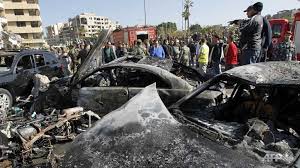 The death toll of the suicide car bombings that targeted the Iranian Cultural Center in Hezbollah's stronghold of Beirut's Bir Hassan rose to 12, including the two suicide bombers, National News Agency reported Thursday.
The Internal Security Forces' Information Branch have reportedly arrested a Lebanese national who allegedly confessed prior to the attack of being tasked by a member of the Azzam Brigades with monitoring the Iranian Cultural Center. The suspect reportedly told authorities that Lebanese Sheikh Sirajeddin Zreikat, a spokesperson for the militant group, had also asked him to monitor the headquarters of Hezbollah-affiliated al-Manar television channel.
The suspect reportedly named several possible targets in the southern suburbs, a predominantly Shiite area strongly associated with Hezbollah.
Meanwhile, DNA tests conducted on relatives of 22-year-old Palestinian Nidal al-Mghayer matched remains found at the scene of the blasts, the sources said.
Mghayer's father Hisham surrendered himself Wednesday to the Army Intelligence unit in Zahrani after he identified his son from a photograph published by the Lebanese Army of a "dangerous" suspect linked to the attacks.
The other bomber has not been identified yet. Authorities are appealing to civilians who have any family members lost since the attack to report them missing.
Government Commissioner to the Military Court, Judge Saqr Saqr delivered the bodies of four out of ten victims to their parents, NNA report added.
Saqr also requested security forces to remove damaged vehicles and reopen the road leading to the explosion site.
The Al-Qaeda-linked Abdullah Azzam Brigades claimed responsibility for the bombings, which took place in Bir Hasan, south of Beirut. It was the second such attack targeting Iranian interests in Lebanon, with the group citing Iran's support for Hezbollah, which is fighting alongside regime forces in Syria. The group also claimed responsibility for the Nov. 19 bombings of the Iranian embassy, which is located in the same area.
In a defiant speech last Sunday Hezbollah Secretary General Hassan Nasrallah he stressed that his party will not withdraw from fighting alongside the regime of President Bashar al-Assad.
"We will remain in Syria." He said.
He also underlined that Hezbollah will win the battle, and that "the Resistance's weapons and techniques are being developed… to be ready for bigger confrontations."
"We will be victorious in this battle. It is a matter of time." He added