One of Bir Hassan suicide bombers identified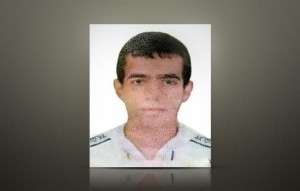 A man suspected of being one of the suicide bombers who detonated themselves in the Beirut suburb of Bir Hassan, has been identified as Palestinian national Nidal al-Mghayyar on Wednesday, according to a report by NOW.
The Lebanese Armed Forces had circulated the man's picture as a "dangerous wanted man," and identified him.
DNA tests of Mghayyar's father are scheduled to be carried out to confirm that he was one of the bombers.
A neighbor of Mghayyar's, who preferred to remain anonymous, told NOW that the alleged suicide bomber was good friends with Mohammad al-Moussa, who committed a suicide bombing himself near the Iranian embassy in November 2013.
He also said that Mghayyar and Moussa had gone missing after the followers of fugitive Sunni cleric Ahmad al-Assir battled the army in Sidon's Abra in June of last year.
NOW's correspondent later reported that a number of young men had burned Mghayyar's car and house in Al-Baysariyyeh, while Hezbollah members cordoned off the town.
The army later cordoned off the Palestinian man's house.
Earlier on Wednesday, two explosions hit the Beirut neighborhood of Bir Hassan, killing six people and injuring over a hundred in the latest attack in the suburbs of the Lebanese capital.
The blasts which took place by the Iranian Chancellery, near the Hezbollah stronghold of Dahiyeh, were claimed by the Abdullah Azzam Brigades, a jihadist group inspired by Al-Qaeda.
The group had previously claimed an attack on the Iranian embassy in Beirut, also located in a Shiite neighborhood controlled by the Tehran-backed Hezbollah.
Hezbollah is fighting alongside Syrian President Bashar al-Assad's troops against Sunni-led rebels.