Israeli soldiers cleaning up after drone crashed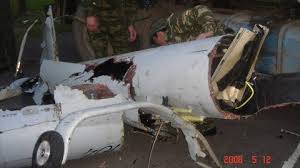 An Israeli drone crashed on the Blue Line demarcation with Lebanon and Israeli soldiers entered the area to retrieve it, a security source and Lebanon's official news agency said Tuesday.
"An Israeli drone that had been flying over parts of southern Lebanon crashed on the Blue Line," a security source said, referring to the UN-demarcated line between the countries.
"Twelve Israeli soldiers crossed into the area to retrieve the pieces," the source added, saying locals and the Lebanese army witnessed the incident but there were no clashes.
Lebanon's National News Agency also reported the incident, saying the Israeli troops had collected the plane's wreckage after the crash "in unclear circumstances."
Neither the United Nations Interim Force in Lebanon, which patrols the area, nor the Israeli army, could confirm the incident.
Israeli aircraft regularly cross into Lebanese airspace and the border area in southern Lebanon has been the scene of tense standoffs in the past.
The Blue Line was drawn up in 2000 by the UN after Israeli troops withdrew, ending a 22-year occupation of south Lebanon.
AFP