Arabs and Lebanese will miss poet Ounsi al-Hajj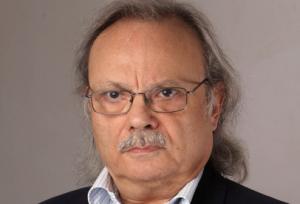 Lebanese poet Ounsi al-Hajj, who pioneered the use of free verse in Arabic poetry in the 20th century at age 77, his family said.
"His health had deteriorated in recent days. He was suffering from colon cancer and died on Tuesday afternoon, surrounded by his family at his home," a relative said.
Akl al-Awit, editor of Lebanese daily An-Nahar's cultural supplement, called the death a "great loss for Arab poetry."
Hajj was born in Beirut on June 27 1937. His father was journalist and translator Louis al-Hajj and his mother was Mary Aqal. He married Leila Daou in 1957 and they had two children named Nada and Louis.
Hajj was a founding member, along with poets Yousef al-Khal and Adonis, of the literary magazine "Shaar" (Poetry).
His first book, published in the magazine in 1960, was the first of free verse poetry in Arabic.
Hajj also worked as a journalist at the pan-Arab Al-Hayat daily, at An-Nahar and another Lebanese newspaper, Al-Ahkbar.
He authored six books of poetry that were translated into multiple languages, and himself translated into Arabic works by Shakespeare, Albert Camus and Bertolt Brecht.
The six collections of are as follows: Lan, The chopped head, The past of forthcoming days, What have you made with the gold what have you done with the rose, The Messenger with her hair long until the sources and The banquet. He also has a three-part book of articles called Words words words, and a book of philosophical contemplations and aphorisms called Khawatem that was released in two parts in 1991 and 1997. Al-Hajj began publishing a third part on a weekly basis in 2007 in the newspaper Al-Akhbar.
From 1963, al-Hajj translated into Arabic more than ten plays by Shakespeare, Ionesco, Durrenmatt, Camus, Brecht and others. His translations were performed by groups from the school of modern acting (at the Baalbek festivals) as well as the actors Nidal al-Achkar, Roger Assaf, Shakib Khoury and Burj Fazlian.
Selections of his poetry have been translated into French, English, German, Portuguese, Armenian and Finnish. The anthology Flying Eternity was published in French in Paris by the publishing house Actes Sud in 1997 and the anthology Love and the Fox, Love and the Others was published in a German/Arabic bilingual edition in Berlin in 1998.
ME on Line
Following  the announcement  of his  death , friends and acquaintances  posted messages of remembrance on Twitter:
Gaby Latif
Farewell Ounsi al-Hajj, poet of love and freedom
The bells of [sorrow] ring out the melody of sadness
From afar…
Joumana Haddad
Oh life you have taken enough revenge on him. Your harshness will remain less than his beauty.
Mary al-Qouseifi
Poets die after long struggles with life…
Ounsi al-Hajj… Remind us when you come with your great glory
Elie Salibi
A great man has passed away…
Ounsi al-Hajj.
To whom did you leave "Khawatem"?
To whom did you hand over "The past of forthcoming days"?
Death is an oppressor…
Ivana Mercheline
I wish we were with you.. I wish we were with you. We will miss you so much [dear] father.
NOW