Harb threatens to quit cabinet over ministerial statement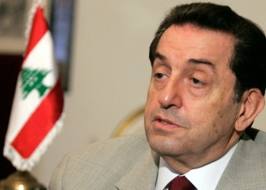 Telecommunications Minister Boutros Harb threatened to resign from the cabinet if the ministerial statement does not include the Baabda declaration .
"We will not accept anything but the Baabda declaration in the ministerial statement," Harb said in an interview with An-Nahar newspaper.
Harb also voiced his rejection of the formula that Hezbollah is pushing to include in the statement "Lebanon's people+ army + Resistance."
"It is not [acceptable] at all to add the so-called formula of the 'unity of Lebanon's people, army, and Resistance' to the ministerial statement, especially after Hezbollah became involved in the war in Syria," Harb stressed.
After nearly eleven months of bickering Prime Minister Tammam Salam finally announced on Saturday the formation of a 24-minister cabinet.
Since Salam's appointment in April last year, efforts to form a government had stumbled over disputes between Hezbollah, whose fighters have been helping the Syrian army crush the revolt, and March 14 which backs the Sunni-led uprising.
The 24 portfolios are divided equally between three groups ; the Hezbollah led March 8 alliance, The March 14 alliance and the centrist bloc which includes Salam, president Michel Suleiman and PSP leader Walid Jumblatt.
The cabinet included all Lebanese parties, except for the Lebanese Forces, which maintained its stance against participating in a cabinet that includes ministers representing Hezbollah, as long as the militant group continues its engagement in the Syrian war alongside the regime of President Bashar al-Assad.