Aoun confirms meeting with Hariri, Nasrallah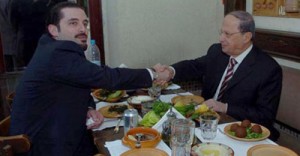 Free Patriotic Movement leader MP Michel Aoun confirmed Monday in an interview with the FPM's official Facebook page that he recently met with former prime minister Saad Hariri and Hezbollah chief Sayyed Hassan Nasrallah.
"If you want to mediate, you must talk to everyone and this is why I met with former PM Saad Hariri and Sayyed Hassan Nasrallah," Aoun said
His confirmation comes two days after Prime Minister Tammam Salam announced the formation of a 24-minister cabinet , after nearly eleven months of bickering.
"Hezbollah is not embarrassed of my rapprochement with the Future Movement and we will all be able to close ranks," Aoun added.
Al Anbaa newspaper reported on January 30 that the Syrian regime pressured Hezbollah to support the position of its ally FPM leader MP Michel Aoun over the cabinet formation issue.
And one month ago there was a report claiming that Aoun had met with Hariri in Rome , but the FPM leader back then declined to comment on the report. The fact that the cabinet was finally formed , could indicate that such a meeting did take place.
On Sunday, Nasrallah took credit for the formation of the newly formed government which he described as a "settlement cabinet."
Nasrallah claimed that his party was the one that sacrificed the most for creation of the new cabinet.
"Hezbollah and the Amal Movement opened the door for this achievement… Hezbollah made the most sacrifices for the creation of this cabinet." He said during a TV appearance via video link on Sunday.