27 more Hezbollah fighters killed in Syria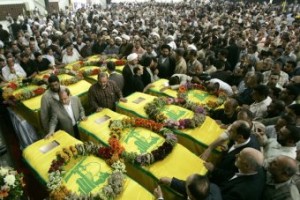 The Unified Military Command in Qalamoun had killed 27 Hezbollah members as they tried to enter Syria from the Al-Sahal crossing , activist Ali Diab told NOW on Monday.
Diab added that the rebel fighters had destroyed two regime tanks, prompting the regime to retaliate by shelling the area surrounding the villages of Al-Sahal and Jarajir.
He also added that: "Confrontations between regime forces ( backed by Hezbollah), and the Free Syrian Army are ongoing around Yabroud."
Meanwhile SMART news agency told NOW that regime shelling from checkpoints surrounding the town of Yabroud and the Syrian army's 18th brigade killed a large number of civilians."
SMART also mentioned that the fighting led to migration out of the city towards villages in Syria's Qalamoun and the Lebanese town of Arsal.
Another activist, Omar al-Qalamouni, also told NOW about the fighting in and around Yabroud and stated that although Hezbollah was supporting the Syrian army it had not made any headway.
"The regime and Hezbollah have not achieved any progress so far," al-Qalamouni told NOW.
"Meanwhile the regime is shelling Rankous, Hawsh al-Arab, al-Sahal and Zabadani with heavy artillery, rockets and barrel bombs." The report added