Obama Promises More Help to Jordan to Cope With Refugees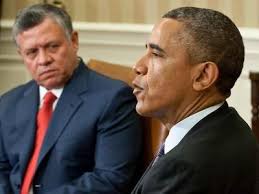 US President Barack Obama said he intends to provide $1 billion in loan guarantees to Jordan and to renew a five-year agreement that would ensure a minimum level of annual U.S. aid to the kingdom through 2019.
With a flood of refugees from the civil war in Syria threatening Jordan's stability, Obama welcomed King Abdullah II to Sunnylands, the Annenberg Estate in Rancho Mirage, California, as U.S. officials review their options in dealing with an intensifying crisis.
"The people of Jordan have been very generous" in taking in Syrian refugees, Obama said before beginning talks with the Jordanian king. "It puts a great strain on the resources of Jordan."
The meeting is the first of three Obama is holding with Mideast allies, seeking to reassure them of support as peace talks on Syria stall and the U.S. presses Iran to give up its nuclear weapons ambitions. Obama meets next month in Washington with Israeli Prime Minister Benjamin Netanyahu and then, at month's end, flies to Saudi Arabia to see King Abdullah Bin Abdulaziz Al Saud.
Tonight's meeting between Obama and Abdullah, both 52, overlaps the deadlocked talks in Geneva between Syrian President Bashar al-Assad's government and the opposition. Secretary of State John Kerry said in Beijing yesterday that Obama had asked his administration to "to think about various options that may or may not exist" to make progress.
Congressional Action
The loan guarantee, which requires congressional action, would follow an initial $1.25 billion loan guarantee authorized last year. It would help Jordan borrow money to pay for costs associated with refugee growth and the loss of natural gas from Egypt.
Signing another five-year funding agreement would give Jordan a degree of certainty as it struggles with economic and social challenges. Jordan receives $660 million a year from the U.S. under a five-year memorandum of understanding reached in 2008, with $360 million for economic support and another $300 million for military assistance.
On top of that, Congress last year allocated an additional $340 million to Jordan through overseas contingency funds. The five-year agreement is set to expire at the end of September.
The president didn't say what level of funding his administration will recommend.
While Obama has staked his foreign policy on a "pivot" to Asia, he has been unable to turn attention away from the Middle East.
Jordan 'Fulcrum'
Obama is "trying to show some love to our friends in the Middle East and tamp down some of the complaints that the administration has decided to forget the Middle East and just pay attention to Asia," said Jon Alterman, director of the Middle East program at the Center for Strategic and International Studies, a Washington policy center.
Jordan is "the fulcrum of virtually everything we do in the Middle East," Alterman said. "As a military ally, as an intelligence ally, as a country bordering the conflict in Syria, Israel, Iraq, and a bellwether for allied monarchies in the Gulf."
For the Jordanian king, it's the highest-level meeting on a U.S. visit that also has included talks in Washington with Kerry, Vice President Joe Biden, Defense Secretary Chuck Hagel, congressional leaders and appropriators, and leaders of the World Bank and International Monetary Fund.
Kerry, who has been pressing for progress in talks between the Israelis and Palestinians, is also to meet next week with senior Emirati officials in Abu Dhabi.
California Visit
Obama's meeting with the Jordanian king is part of a weekend visit to California by the president, who stopped earlier in Fresno to discuss the state's drought with local officials.
While the Jordanian monarch was in Washington earlier this week, Eric Schultz, an administration spokesman, said the president chose the Sunnylands venue because it provides a chance for "an informal, intimate discussion with a leader that he's so close with, King Abdullah, and out of the swirl of Washington."
Obama used the estate for talks with Chinese President Xi Jinping last year.
Syrian refugees registered in Jordan now total 571,457, according to UNHCR, the United Nations Refugee Agency. The agency's records show 2.4 million registered Syrian refugees throughout the region.
The crisis in Syria has prompted additional aid commitments to Jordan, according to the Congressional Research Service. Obama, visiting Jordan last March, pledged to find $200 million to help with costs related to Syrian refugees.
Syrian Border
Congress last year said the U.S. could provide up to $150 million to Jordan to improve security on the Syrian border and $340 million for regional and Iraqi border security, The U.S. last year delivered 35 mine-resistant ambush-protected vehicles to Jordan and made its first loan guarantee to the country.
U.S. humanitarian assistance for Syrians inside and outside the country, and to neighboring countries hosting refugees, has surpassed $1.7 billion, Kerry said last month.
In a letter last week, Elisa Massimino, president and chief executive officer of advocacy group Human Rights First, urged Obama to offer Jordan more U.S. aid. Abdullah should ease restrictions and border closures, which Massimino said increasingly leaves Syrians with nowhere to go.
Massimino said the U.S. should commit to resettling at least 15,000 refugees, although "ultimately, the solution to this crisis lies in cessation of the violence that is causing innocent people to flee for their lives," she said.