Lebanon finally has a government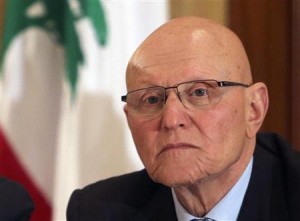 Finally Lebanon has a government. After nearly eleven months of political bickering by the rival political groups , Prime Minister Tammam Salam was finally able to put together a 24 member unity cabinet that he announced on Saturday.
Salam stressed the importance of creating a positive atmosphere in order to revive the national dialogue under the patronage of President Michel Suleiman.
"I stretch my hand to all political leaders and I count on their wisdom to reach this end. I call on all of them to concede [to serve] the project of the state and to support the army and the security forces and keep them away from political [bickering]," Salam said following the cabinet formation announcement.
"A lot of effort, patience, and flexibility was needed to form the government of national interests," he remarked from the Baabda Palace after he held talks with President Michel Suleiman and Speaker Nabih Berri.
"The portfolios were distributed in a manner that achieves national partnership and respects the rotation of power," he stressed.
He also said that his cabinet will work on holding presidential elections and agreeing on a new law for parliamentary elections.
The cabinet included all Lebanese parties, except for the Lebanese Forces, which maintained its stance against participating in a cabinet that includes ministers representing Hezbollah.
Here's the new cabinet lineup: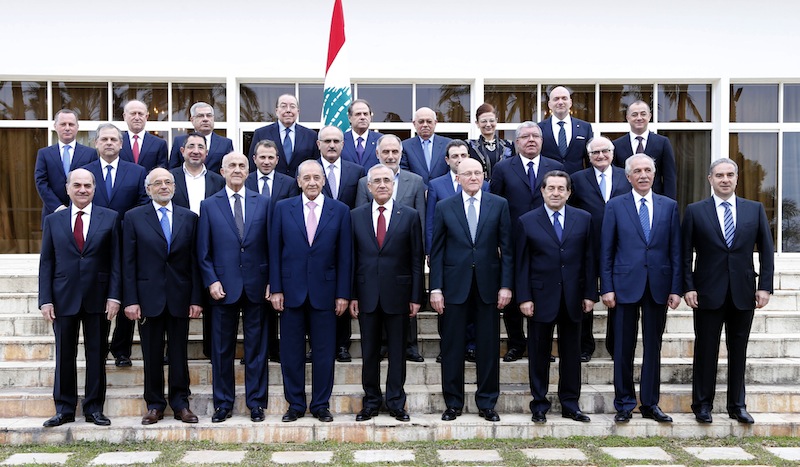 Tammam Salam: Prime Minister
Samir Moqbel: Deputy Prime Minister and Defense Minister  (Orthodox – centrist)
March 14 MP Boutros Harb: Telecommunications Minister (Maronite)
National Struggle Front MP Akram Chehayeb: Agriculture Minister( Druze – centrist)
Amal MP Ghazi Zeaiter: Public Works and Transportation Ministry. (Shiite)
Change and Reform bloc MP Arthur Nazarian (Tashnaq Party): Energy Minister ( Armenian Orthodox))
Future bloc MP Michel Pharaon: Tourism Minister (Catholic)
Amal MP Ali Hassan Khalil: Finance Minister (Shiite)
Hezbollah MP Mohammad Fneish: State Minister for Parliament Affairs( Shiite)
Gebran Bassil (Free Patriotic Movement): Foreign Minister ( Maronite)
National Struggle Front MP Wael Abu Faour: Health Minister ( Druze)
Hezbollah MP Hussein Hajj Hassan: Industry Minister ( Shiite)
Future bloc MP Nohad Mashnouq: Interior Minister (Sunni)
Future bloc MP Nabil De Freige: State Minister for Administrative Reform ( Protestant -Minorities)
Ramzi Jreij (Phalange ): Information Minister (Greek Orthodox)
Rasheed Derbas (Future Movement) : Social Affairs Minister (Sunni)
Mohammad Mashnouq (PM Tammam Salam's share): Environment Minister (Sunni)
Alice Shebtini (President Michel Suleiman's share): Minister of Displaced (Maronite)
Abdelmotleb Hannawi (President Michel Suleiman's share): Youth and Sports Minister (Shiite)
Sejaan Azzi (Phalange): Labor Minister (Maronite)
Ashraf Rifi (Future Movement): Justice Minister ( Sunni)
Alain Hakim (Phalange): Economy Minister (Catholic)
Raymond ( Ronni)  Arayji (Marada Movement): Culture Minister (Maronite)
Elias Abou Saab (Free Patriotic Movement): Education Minister (Maronite)
The new cabinet will replace the cabinet of caretaker PM Nagib Mikati