UN puts evacuations from Syrian OLD city of Homs on hold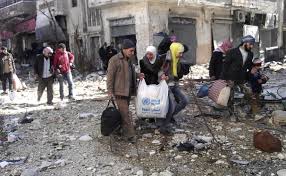 The United Nations on Friday halted the evacuation of civilians from the blockaded city of Homs until the fate of men detained from the rebel-held areas becomes clear, a senior U.N. official said.
The development came just a day after a cease-fire was extended for three more days, the second such extension since the truce first went into effect last week. Hundreds more civilians are believed to still be trapped in rebel-held parts of the city, mostly in the medieval quarter known as Old Homs.
Matthew Hollingworth, deputy U.N. team leader for the Homs mission, told The Associated Press by telephone from Damascus that dozens of men and boys aged 15 to 55 — who left Old Homs earlier during the evacuation — are still being held and questioned by Syrian authorities.
The government considers males between those ages to be potential combatants and they must obtain security clearance before they can be released. Those the authorities suspect of being rebels will likely be detained.
Hollingworth said the men are being held in a school in Homs and that U.N. officials are also present there.
The men were part of the 1,400 people whom the U.N. and the Syrian Red Crescent evacuated from opposition-held areas of Homs over the past week as a fragile truce between Syrian forces loyal to the President Bashar Assad and armed rebels seeking his overthrow took hold.
Around 400 Homs men of fighting age were subsequently held for questioning by Syrian security forces. There are around 220 men still detained, said Hollingworth.
The detentions have caused widespread concern among Syrian activists who say Assad's security forces have tortured and killed opposition detainees. International rights groups have made similar complaints.
Hollingworth said the evacuated men understood they would have to be present themselves to Syrian security forces.
But he said Friday the U.N. would not evacuate more civilians until all the men had been processed.
"We will now concentrate on the process of completing the regularization of status," Hollingworth said. He said U.N. officials were present in the school where the men were staying. "Only when that's done, will we look at another evacuation."
Hollingworth also said that aid workers had managed to send in enough food to cover the needs of 2,500 people for a month. He said they hoped to send in another food aid shipment soon.
Associated Press