21 mostly Al-Qaeda inmates flee Yemen jail after attack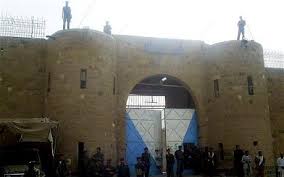 Heavily armed gunmen mounted a bomb, grenade and gun assault on the main prison in Yemen's capital on Thursday in an attempt to free inmates, authorities and witnesses said.
At least 21 mostly al-Qaeda inmates, managed to escape from the prison while seven policemen were killed, according to the interior ministry and security officials. Another two policemen and two gunmen were wounded, and one of the attackers was captured, the ministry said.
Officials say the attack started with a car bomb that exploded at the gate of the Sanaa Central Prison, which is located along the main road leading to the airport. Gunmen then exchanged gunfire with prison guards, when a number of prisoners fled amid the chaos.
Witnesses said that explosions and gunfire could be heard several kilometres away from the prison, which has al-Qaeda members among its inmates.
No one claimed responsibility for the attack, but Yemen is grappling with a growing threat from one of al-Qaeda's most active wings, which has killed hundreds of people in assaults on state and military facilities in the past two years.
Police have sealed off the road to the airport which runs through the neighbourhood where the prison is located.
In October, security forces foiled an attempt by some 300 al-Qaeda inmates to escape after they mutinied in another Sanaa prison. A number of guards and inmates were wounded but none were killed.
Nasser al-Wuhayshi, chief of al-Qaeda in the Arabian Peninsula (AQAP) – seen by the United States as the network's deadliest franchise – vowed in August to free imprisoned members of his network.
Wuhayshi himself escaped from the same Sanaa prison with 22 other members of his group in February 2006 and was named as the group's leader a year later.
AQAP has taken advantage of the weakening of the central government in Sanaa since a popular uprising that toppled President Ali Abdullah Saleh in 2011.
Al Jazeera