Lebanon Army received 136 Humvees as part of US aid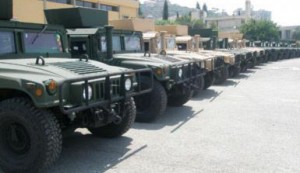 The Lebanese Army received on Thursday another batch of military vehicles as part of the US' aid plan for the Lebanese army.
The army's Logistics Brigade received a new delivery of 136 High Mobility Multipurpose Wheeled Vehicle (HMMWV), better known as Humvee, at the Beirut port in the presence of Lebanese officers and members of the US' Office of Defensive Cooperation.
Hundreds of Humvees have been provided to Lebanon since 2006 .
The US has been providing aid to both the army and Internal security forces ( ISF).
Last week the US embassy inaugurated the opening of an ISF vehicle maintenance facility in Aramaoun, south east of the capital Beirut. The facility, which was donated by the US is charged with maintaining the vehicles that were donated by the US government to ISF and they include 450 Dodge Chargers, 60 Ford Explorers, 25 Harley motorcycles, and several SUVs.