Jordan cleric supports bombings of Hezbollah in Lebanon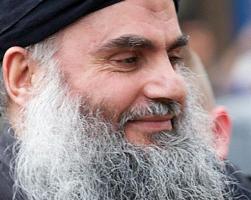 Jordanian Islamist cleric Abu Qatada, on trial for terrorism, said Thursday he supports a string of Al-Qaeda-linked bombings against the powerful Lebanese Shiite group Hezbollah because it backs the Syrian government.
"I support the bombings in Beirut. The leader of Hezbollah (Hassan Nasrallah) sent fighters to Syria to back the regime. He is responsible for those killed in Lebanon," Abu Qatada told reporters at the state security court in Amman.
"If Lebanon wants to protect itself, it should tell the party of the devil to get its fighters out of Syria," he added in a swipe at Hezbollah, whose name in Arabic means party of God.
Since July, 10 blasts have hit Lebanon, six of them involving suicide bombers.
They have been claimed by various jihadist groups, some of them linked to organisations fighting in neighbouring Syria, including Al-Nusra Front in Lebanon, the Abdullah Azzam Brigades and the Islamic State of Iraq and the Levant.
The groups say they are targeting Lebanon's Hezbollah for sending thousands of fighters into Syria to fight alongside the regime.
"The party of the devil started all of this. It should be pressured to get out of the Syrian conflict," Abu Qatada added, describing the bombings in Lebanon as "self-defence operations."
Britain expelled Abu Qatada last summer after Amman and London ratified a treaty guaranteeing that evidence obtained by torture would not be used in his retrial and that the proceedings would be transparent.
In 1999, the Palestinian-born preacher was condemned to death in absentia for conspiracy to carry out terror attacks, including on the American School in Amman.
The sentence was immediately commuted to life imprisonment with hard labour.
A year later, Abu Qatada was sentenced in absentia to 15 years for plotting to attack tourists in Jordan during millennium celebrations.
And videotapes of his sermons were allegedly found in the Hamburg flat of 9/11 ringleader Mohammed Atta.
He is being retried in both the 1999 and 2000 cases and has pleaded not guilty to all charges.
If convicted, he could face a minimum of 15 years' hard labour.
AFP