Earthquake rocks China's far western region of Xinjiang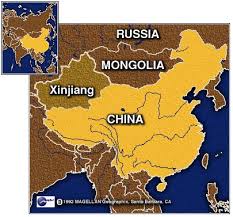 A strong 6.8-magnitude earthquake has struck China's far western region of Xinjiang.
The US Geological Survey says the tremor was only 12.5 kilometres deep but hit about 270 kilometres east-southeast of Hotan in an extremely remote part of the region.
China's Earthquake Networks Centre gave the magnitude of the Wednesday afternoon quake as 7.3.
Another quake of magnitude 5.7 struck five minutes later, five kilometres deep, followed by a series of aftershocks of up to 4.2 magnitude, it said.
State broadcaster CCTV reported that a journalist felt the shaking as far away as Hotan, but that the city was not seriously affected.
An expert told CCTV the area often experienced earthquakes but was sparsely populated, so the impact was likely to be limited.
No estimate of damage was available so far, the Xinjiang earthquake authority said on a social media account, citing officials from Keriya county near the epicentre.
A previous 7.3-magnitude earthquake struck the same county in March 2008, affecting 40,000 people, destroying 200 homes.
SMH