China and Taiwan Hold First Direct Talks Since '49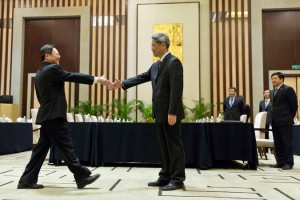 Representatives of Taiwan and China held their first official talks on Tuesday since the end of China's civil war in 1949, a meeting expected to produce few concrete results but one that was a symbolic development in the easing of the two sides' longtime rivalry.
The setting was a resort hotel in the Chinese city of Nanjing, which was at times the capital of Chiang Kai-shek's Republic of China before its government fled to Taiwan after being defeated by Mao Zedong's Communist forces.
"Before today's meeting, it was hard to imagine that cross-strait relations could get to this point," said Wang Yu-chi, head of Taiwan's Mainland Affairs Council.
The improved ties were "hard-earned through efforts of generations," said Zhang Zhijun, head of China's Taiwan Affairs Office, according to the state-run Xinhua news agency. "We should cherish it and work together to maintain this favorable momentum."
China considers Taiwan to be a part of its territory that must eventually be reunited. It has reacted angrily in the past to steps seen as moving the self-governed island toward formal independence.
In 1995 and 1996, it fired missiles into waters around Taiwan ahead of its first democratic presidential election, and it regularly denounced Chen Shui-bian, Taiwan's independent-leaning president from 2000 to 2008.
Since the 2008 election of President Ma Ying-jeou, who favors closer ties with the mainland, Beijing has taken a more conciliatory approach. Cross-strait trade has nearly doubled over the course of Mr. Ma's presidency, reaching $197 billion last year. Nearly three million Chinese traveled to Taiwan last year, constituting the largest single group of visitors after Taiwan's easing of restrictions on mainland arrivals starting in 2008.
The two sides signed a landmark trade agreement, the Economic Cooperation Framework Agreement, in 2010. Those negotiations were carried out by semiofficial bodies: Taiwan's Straits Exchange Foundation and China's Association for Relations Across the Taiwan Straits.
A follow-up agreement to the trade accord that lifts barriers on cross-strait trade in services has been held up in Taiwan's legislature as it debates possible effects on Taiwanese companies.
Until now, representatives of China and Taiwan had met only through unofficial organizations or through retired officials, as Beijing has resisted any steps that might be seen as recognizing Taiwan's sovereignty.
Tuesday's talks focused on ways to improve and formalize communication between the two sides, as well as trade and Taiwan's participation in regional economic agreements.
Mr. Wang also raised the issue of consular visits to Taiwanese detained on the mainland, health insurance for Taiwanese students studying in China and fair treatment of Taiwanese journalists working there, the Mainland Affairs Council said.
During an Asia-Pacific Economic Cooperation meeting in Bali, Indonesia, last year, President Xi Jinping of China said that a resolution to the political impasse between Taiwan and China could not be postponed indefinitely, a signal that he intended to take a more active approach to cross-strait relations than his predecessors.
The remaining two years of Mr. Ma's second and final term as Taiwan's president offer a short window for Beijing to try to forge closer ties. His approval rating has dipped as low as 9 percent over the last year amid concerns about Taiwan's slow rate of economic growth and a series of missteps, including a failed attempt to force out the legislative speaker.
That could hurt future presidential candidates from Mr. Ma's Kuomintang, or Nationalist Party, and bolster the electoral hopes of the opposition Democratic Progressive Party.
Beijing "knows that Ma is pro-China," said Jonathan Sullivan, a China specialist at the University of Nottingham. "It doesn't know what the next president will be like because the election is two years away."
The Chinese government may want to use the current window "to try and institutionalize some contact mechanisms and lock in future political leaders in Taiwan," he said.
NY Times
Photo: Wang Yu-chi, left, head of Taiwan's Mainland Affairs Council, and Zhang Zhijun, head of China's Taiwan Affairs Office, greeted each other before their meeting on Tuesday in Nanjing, China. Alexander F. Yuan/Associated Press