Rouhani marks 35th anniversary with defiance, moderation mix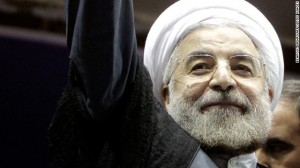 Iranian President Hassan Rouhani marked the anniversary of the founding of the Islamic republic on Tuesday with a mix of defiance and moderation, telling a huge crowd of Iranians that "no single political faction can rule the country, and all political groups must have a share in running the country."
"We want to increase national unity, and clear our hearts from some past events," said Rouhani, who was elected last June after campaigning as a reformer who could heal the country's internal divisions and ease its international isolation.
At the same time, a week before the next round of negotiations with world powers over Iran's controversial nuclear program, Rouhani was resolute about the country's right to develop its own energy sources and, separately, to protect itself.
Tehran says its nuclear energy program is peaceful and permitted under the nuclear Non-Proliferation Treaty. But the West and some Arab nations fear that Iran is trying to launch a clandestine weapons program.
Rouhani said that the upcoming talks in Vienna would provide an opportunity to end the standoff, but warned of calamity if the two sides could not come to a comprehensive agreement.
"I say it clearly, Iran will maintain a permanent nuclear program," Rouhani told tens of thousands of Iranians gathered to mark the 35th anniversary of the founding of the Islamic republic in 1979. "The talks are a historical test for Europe and the United States. And if they respect the interests of our nation, and cooperate in a lawful way, they will hear positive response from our nation. But if they repeat the mistaken approaches of the past, it will be harmful for themselves, the region and world stability."
Tehran often uses the anniversary of the 1979 revolution to announce important technical and military achievements, and this year was no exception. On Monday, Defense Minister Hossein Dehgan said the country had successfully tested a new generation of long-range ballistic missiles. The tests should have no bearing on the upcoming Vienna talks, said Deputy Foreign Minister Abbas Araghchi, who is one of Iran's lead nuclear negotiators.
"Our talks with the six world powers are only about the nuclear issue. We will never engage in talks about other matters," Araghchi said. "We made it clear to them in the past, and we also made it clear for the upcoming talks."
In his speech, Rouhani asked Iranians to try and come together to move beyond the scars and deep divisions generated by the contested 2009 reelection of Mahmoud Ahmadinejad as president, and the months of protests that followed.
"We need to move forward," Rouhani said.
Washington Post